Here you will find all the upcoming events Wear It Quirky will be taking part in, including local markets, fairs and pop-ups:
Canalside Farm - 16th and 17th September 2023
Craft & Flea, Manchester Cathedral - 30th September 2023
Craft & Flea, The Engine Shed, University of Lincoln - 1st October 2023
Keep It Local Affinity Talke Pop Up - 7th October - 27th October 2023
World of Wedgwood Artisan Market - 8th October 2023
Keele SU Open Day, Keele University - 14th October 2023
Castle Artisan Market, Newcastle-under-Lyme - 15th October 2023
Craft & Flea, Liverpool Camp Furnace - 22nd October 2023
Witch Elm Market, Mander Centre, Wolverhampton - 29th October 2023
Craft & Flea, Kings Hall Stoke - 5th November 2023
Keep It Local Potteries Pop Up - 13th November - 24th December 2023
Keele SU Open Day, Keele University - 18th November 2023
Castle Artisan Market - 19th November 2023
Canalside Farm Market - 26th November 2023
Trentham Makes Market - 2nd December 2023
Middleport Artisan Market - 3rd December 2023
Middleport Artisan Market - 9th & 10th December 2023
Castle Artisan - 17th December 2023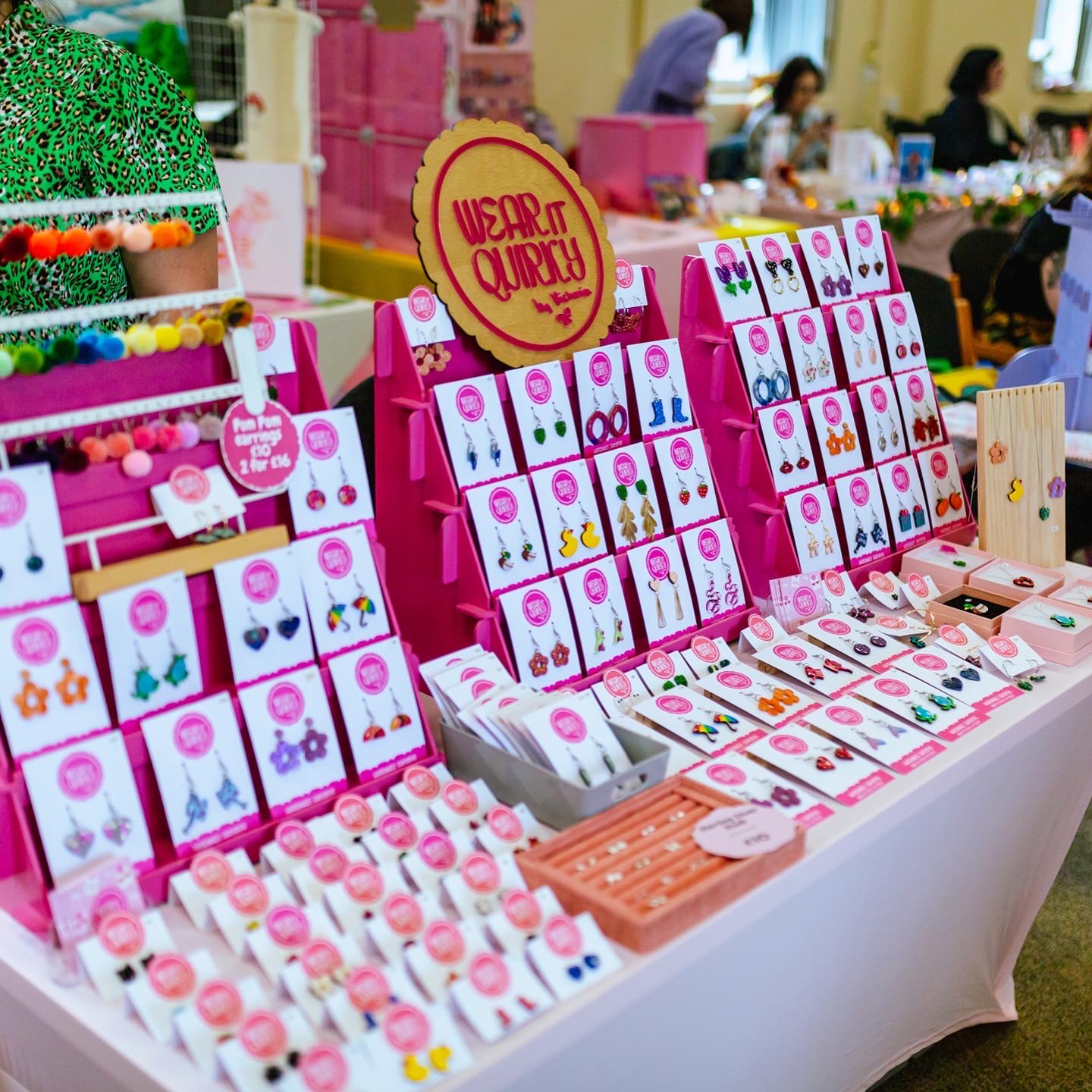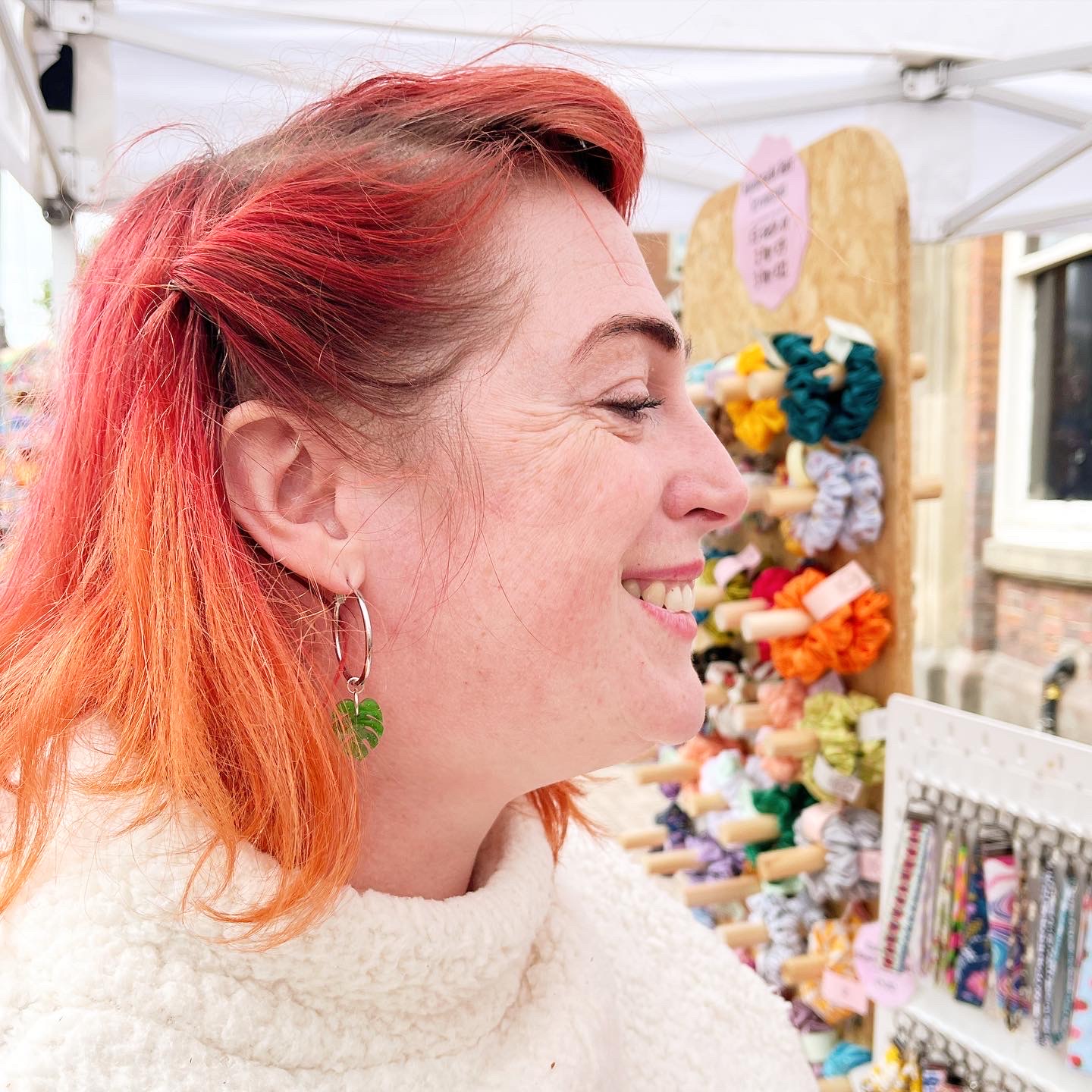 Castle Artisan Market, Newcastle-Under-Lyme - 28th August 2023
.
Summer Artisan Market, Bobby's Ice Cream Parlour, Hulme - 27th Aug
.
Beacon Craft Fayre, Lichfield - 12th August 2023
.
Dunelm Store Small Business Pop Up - 6th August 2023
.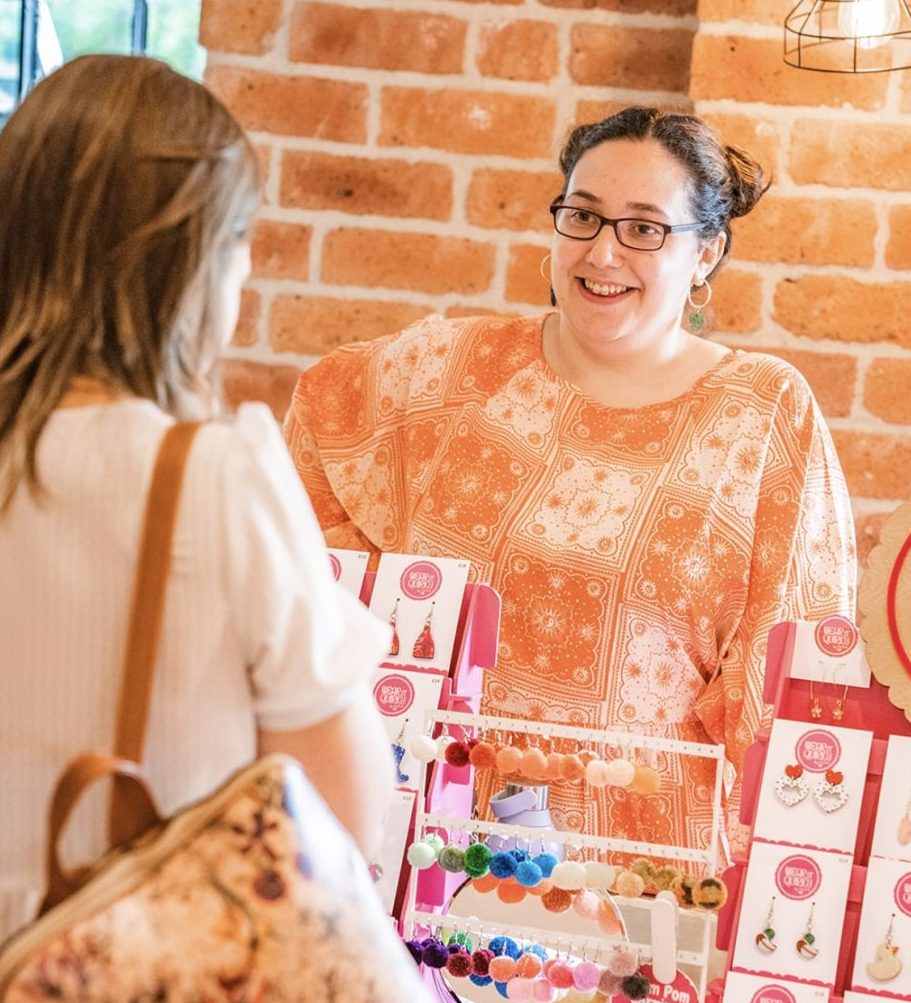 Midlands Makers Market, Harlem Mill, Derbyshire - 30th July 2023
.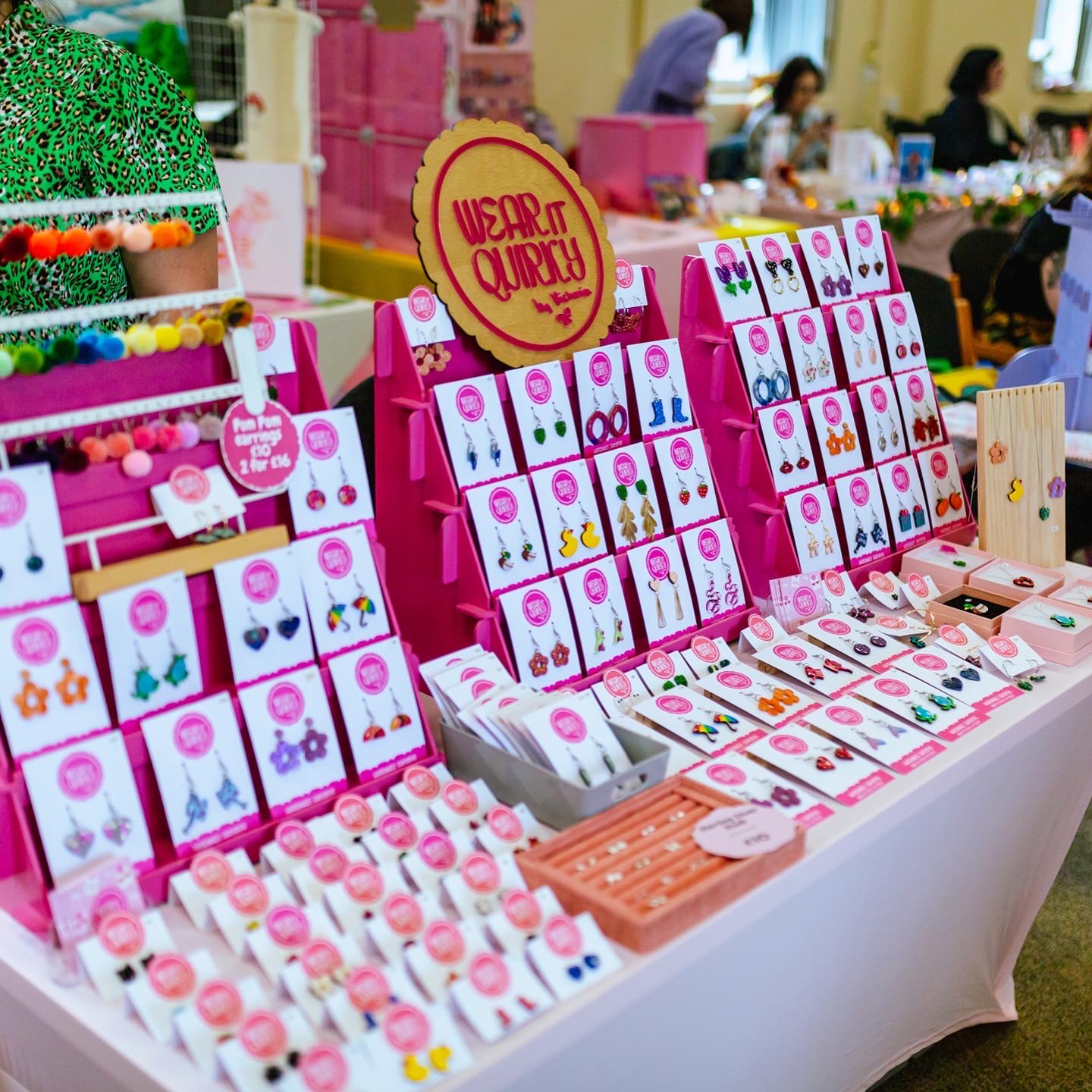 Blue Moon Market, Moseley, Birmingham - 29th July 2023
.
Craft & Flea Cambridge - 22nd July 2023
.
Canalside Farm Market, Great Haywood, Stafford - 8th & 9th July 2023
.
Craft & Flea, De Mountford University, Leicester - 17th June 2023
.
Middleport Artisan, Middleport Pottery, Burslem - 9th & 10th June 2023
.
Craft & Flea, Kings Hall Stoke - 4th June 2023
.
Castle Artisan Market, Newcastle-Under-Lyme - 21st May 2023
.
Canalside Farm Market, Great Haywood, Stafford - 13th & 14th May 2023
.
Liverpool Makers Market, Albert Docks - 7th May 2023
.
Tissington Craft Fair, Derbyshire - 29th & 30th April 2023
.
Castle Artisan Market, Newcastle-Under-Lyme - 16th April 2023
.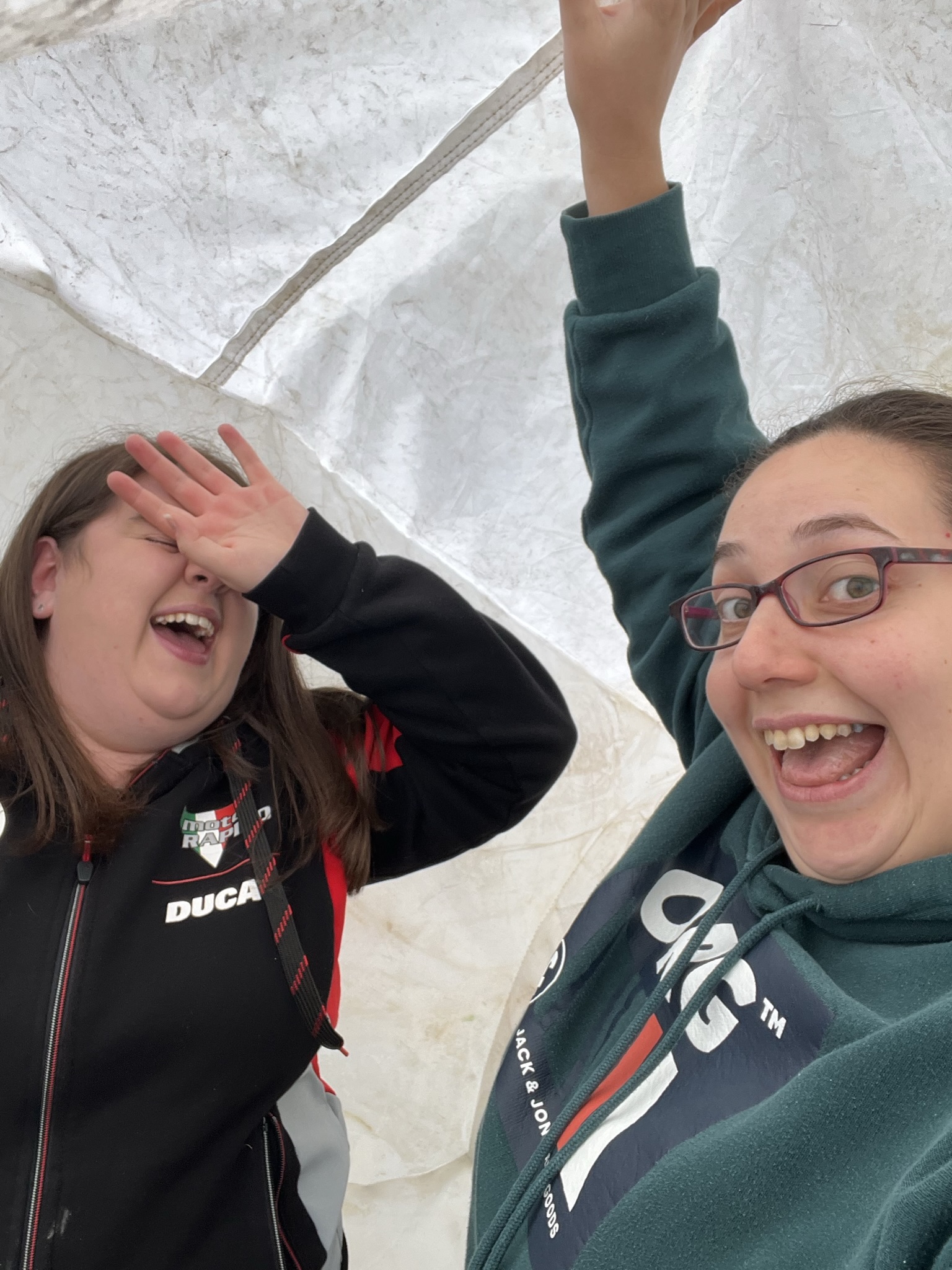 Keep It Local Market, Sneyd Arms Keele - 1st April 2023
.
Craft & Flea, Kings Hall Stoke - 25th March 2023
.
Castle Artisan Market, Newcastle-Under-Lyme  - 19th March 2023
.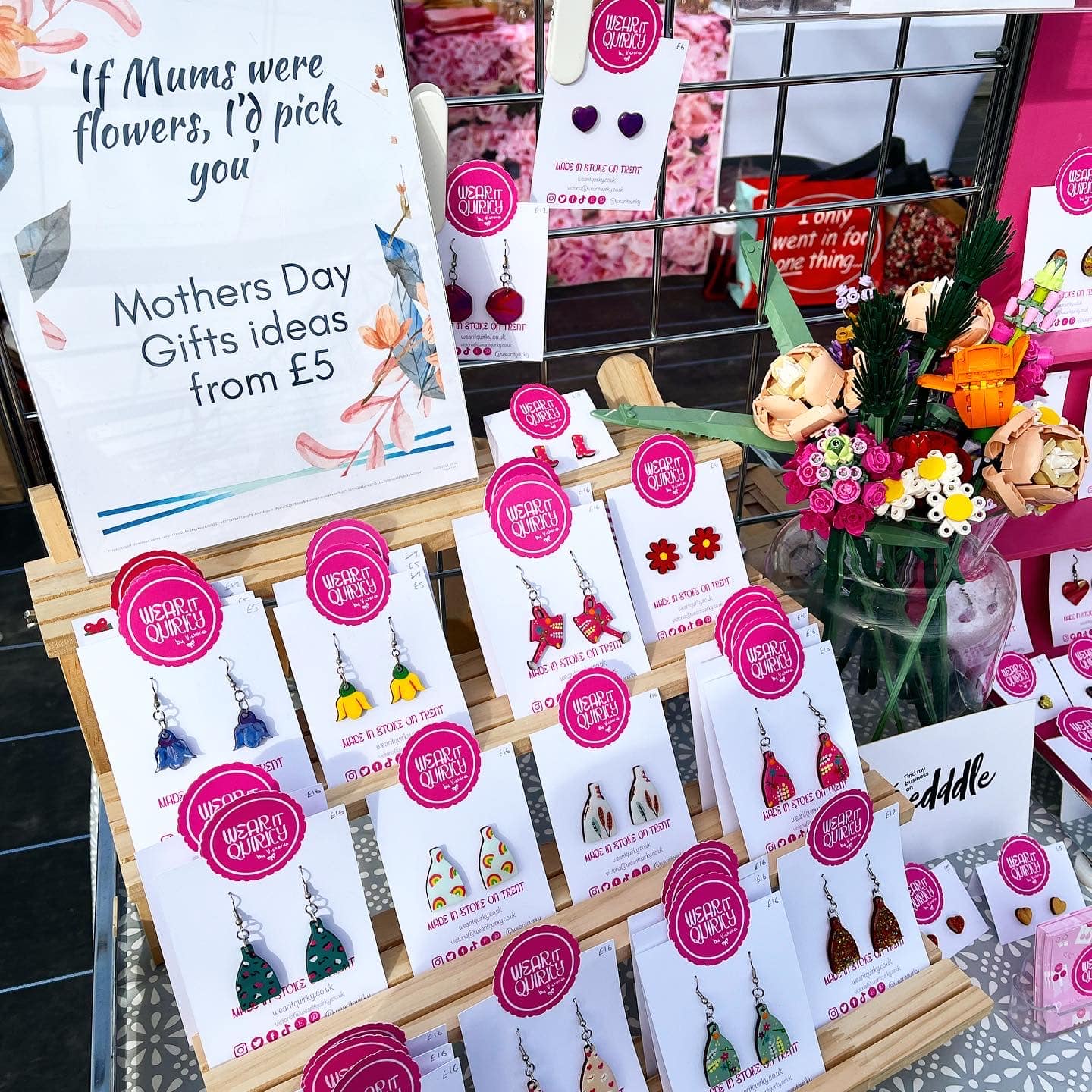 Canalside Farm Market - 11th and 12th March 2023
The first market of the year and it was at my favourite place of all - Canalside Farm! Due to the weather being so unpredictable at this time of year we were inside the Glass House.
As it was a weekend before Mothers Day, I decided to make my stall cater to Mothers Day gifts.
I wanted to change it up for a bit and make it quite floral. I had intended to take some fresh flowers but as we were in the glass house it can sometimes be super cold or super hot. Neither temperatures are good for fresh flowers so my husband very cleverly suggested I take
---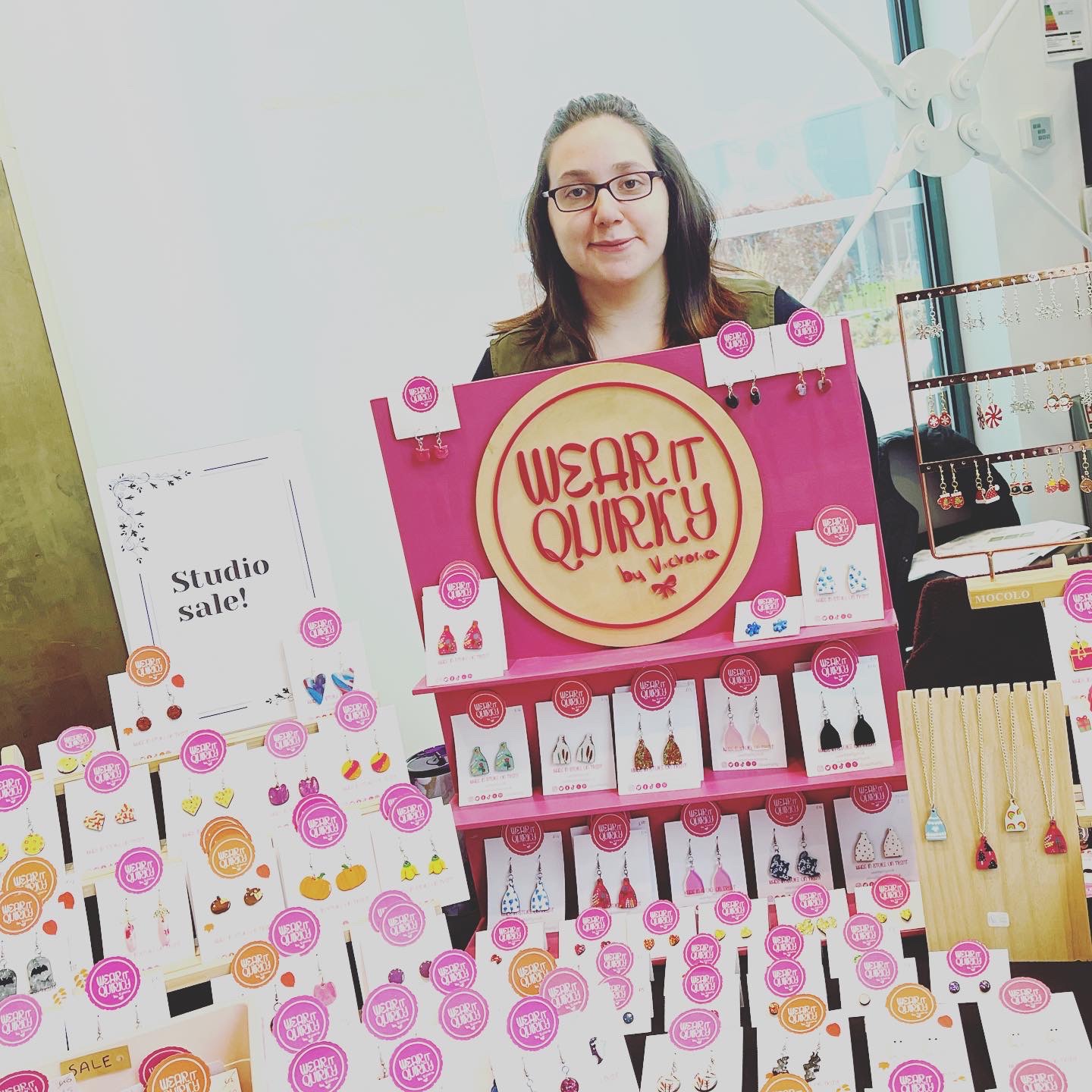 World of Wedgwood, Barlaston - 23rd December 2022
Being totally honest, I wasn't sure what this event was going to be like. After a truly amazing November and December I had barely any stock left PLUS, my stock is already in Josiah and Co at World of Wedgwood so I wasn't sure if people would be interested.
I decided to change my stall up a bit and hosted a 'studio sale' inside where I had lots and lots of one-off pieces that I wanted to try and sell. This actually worked really well.
I also had an amazing message on Instagram from a very kind customer who bought a huge amount of pieces to donate to Salvation Army which was so thoughtful and I was so excited to help.
My lovely friend Nikki came to visit me at the event too. It's always nice to have company!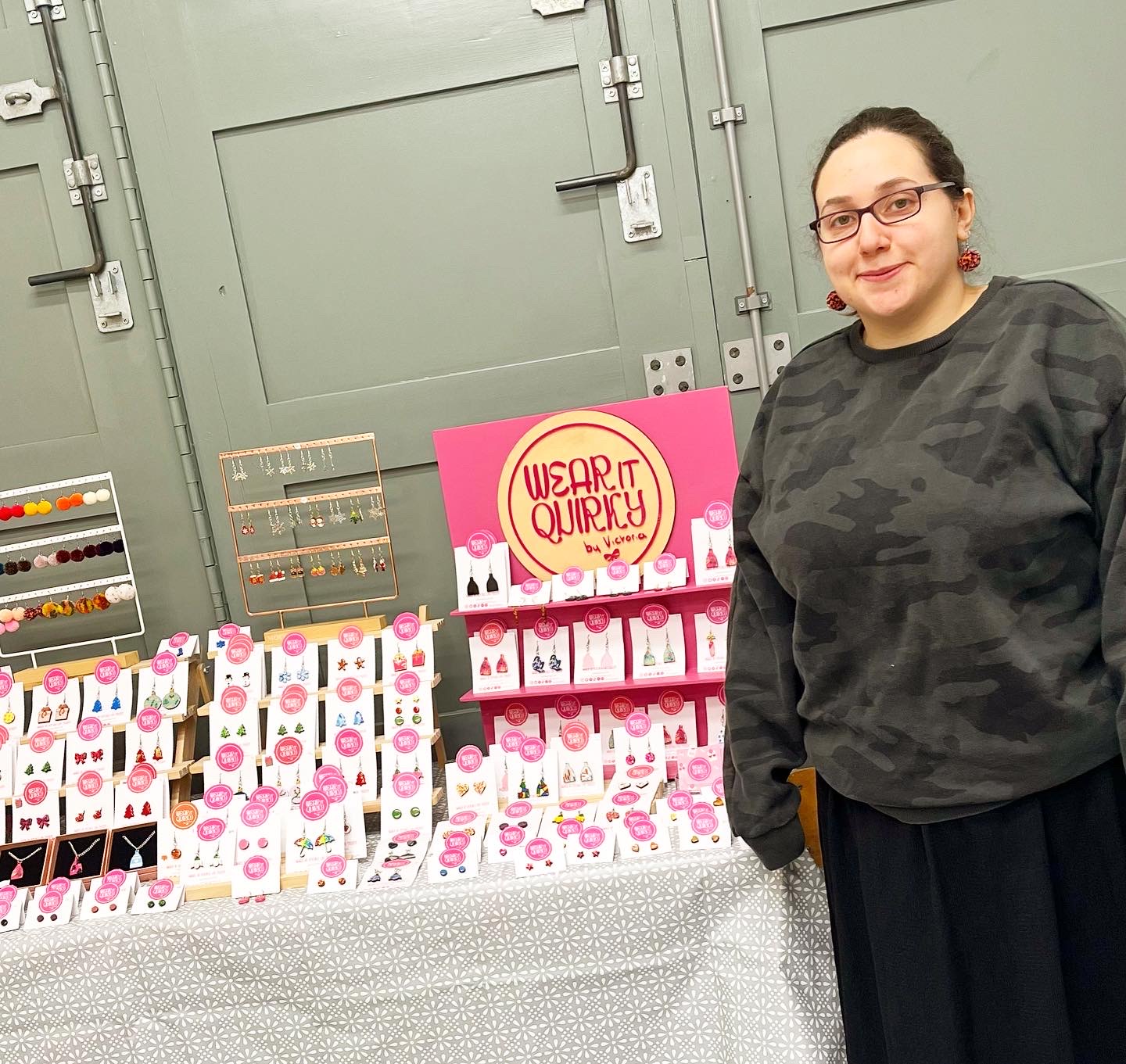 Great Bear Tattoo, Tunstall - 4th December 2022
After such an amazing event in Summer, I returned to the wonderful venue: Great Bear Tattoo in Tunstall for their Christmas Fair.
Even with all the hard work of the venue organisers, unfortunately the footfall was very minimal. It's that awkward time of year where people have lots going on and there are so many amazing Christmas Markets to choose from.
I used the day as an opportunity to share the stock I had left on my Instagram stories and sold lots of pieces that way - which is always a bonus!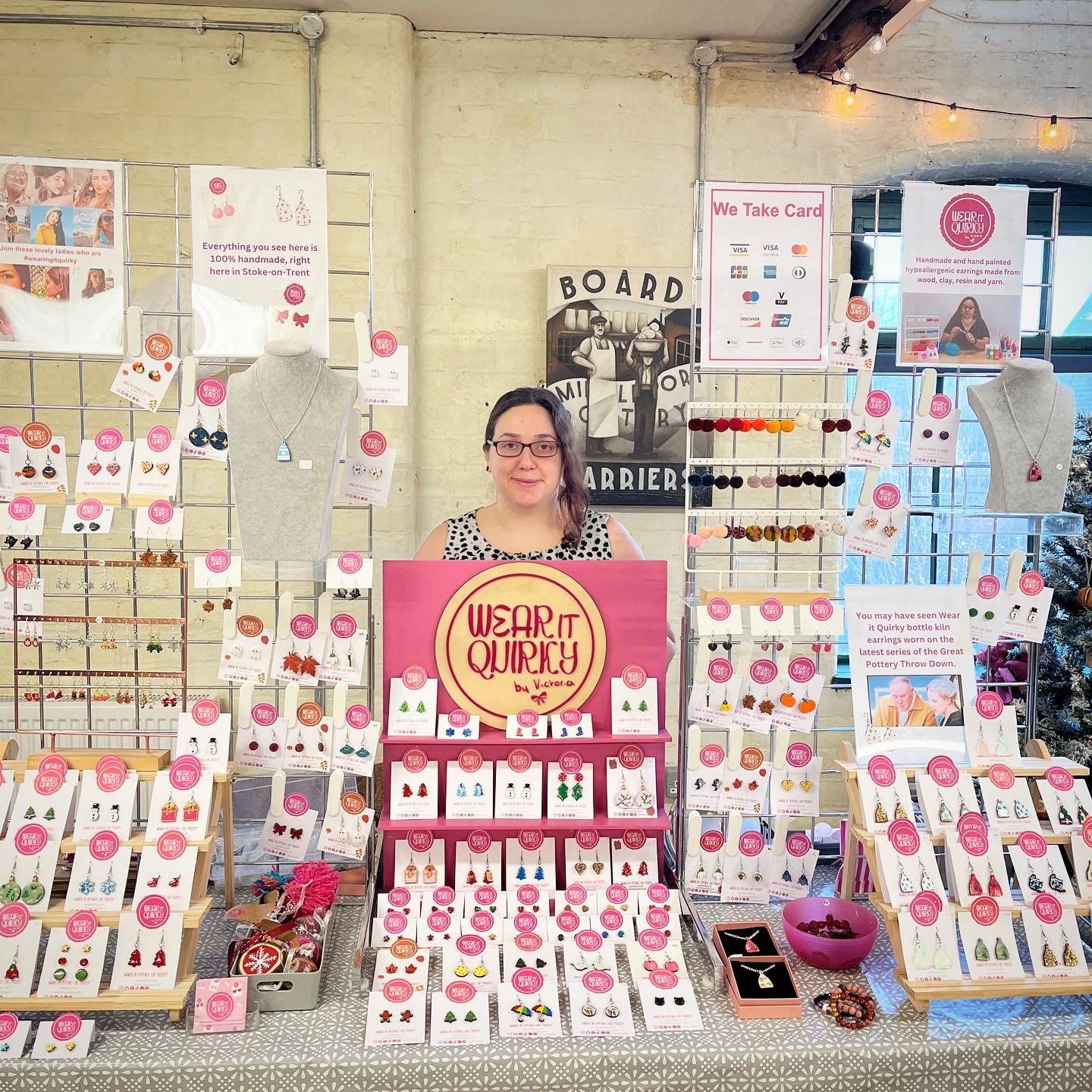 Middleport Pottery Christmas Market - 3rd December 2022
Although my stall looks super full on the photo, by this point in the year my stock is seriously dwindling!
At the start of the Middleport Pottery Christmas Market which is run by the folks who run Castle Artisan, I had a really amazing £90 sale to one person! I was chuffed.
Unfortunately, the rest of the day was pretty quiet but I had lovely stall neighbours who kept me going. My lovely Mum visited me in the afternoon and helped me pack away which was brilliant because it required a few trips!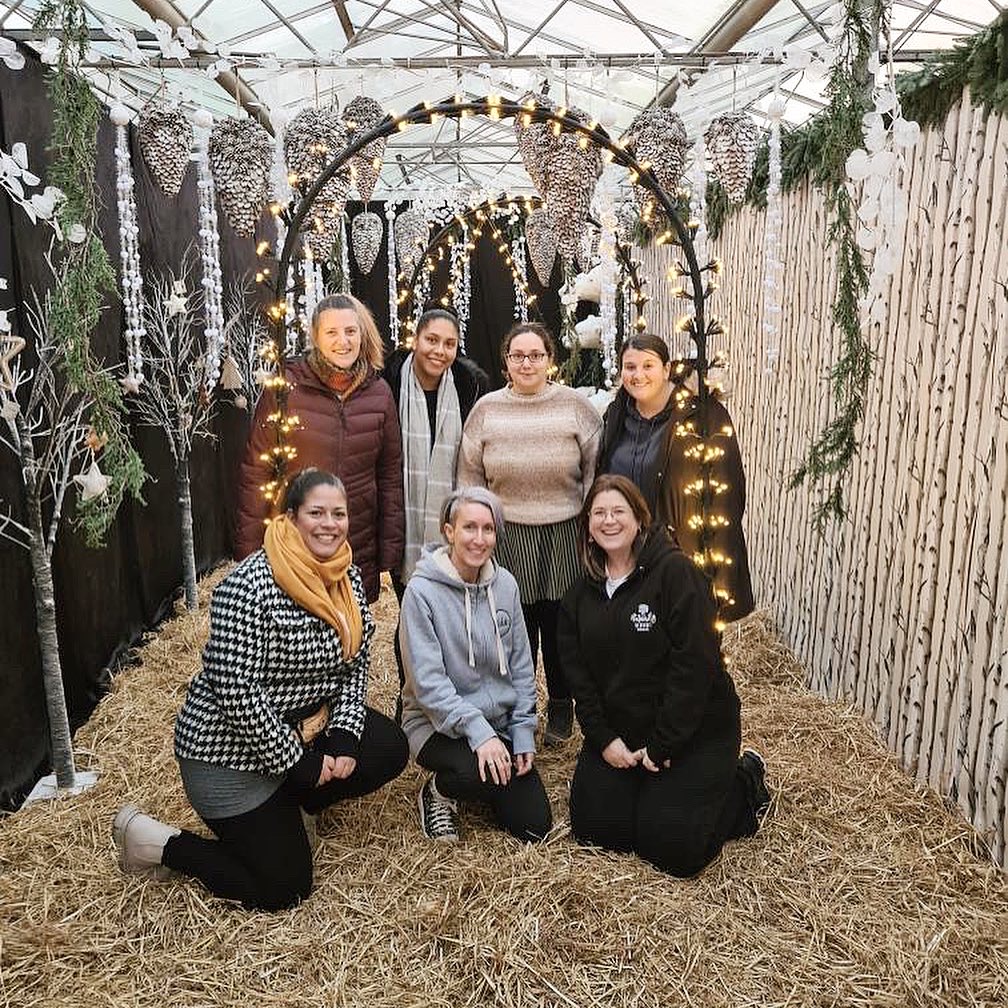 Canalside Farm Market, Great Haywood - 27th November 2022
Well, this market was a tough one.
Only because I had booked it on a day I was also working a night shift and unfortunately I couldn't get out of the night shift and I couldn't miss out on the opportunity to have a stall at my most favourite market.
The lovely organisers and owners of Canalside Farm were very kind to me though and let me set-up my stall the night before when other people were leaving. I didn't think beforehand that setting up a stall at 4:30pm in a Glass House in Winter would mean I was setting up in the dark - but I got there in the end!
It meant I had a bit of a lie-in the next morning ready for the long day and then the night shift. At least this year we didn't have any snow when we were packing down.
Myself and other female-led small businesses also snapped a photo of us all in the Christmas grotto.
From Left to right are: 
Sally from Sally's Baked With Love, Jody from The Candle Nurse, Me, Hayley from Planet Peg, Bailey from Aunty B's Handmade and Cate from Vida Jewellery.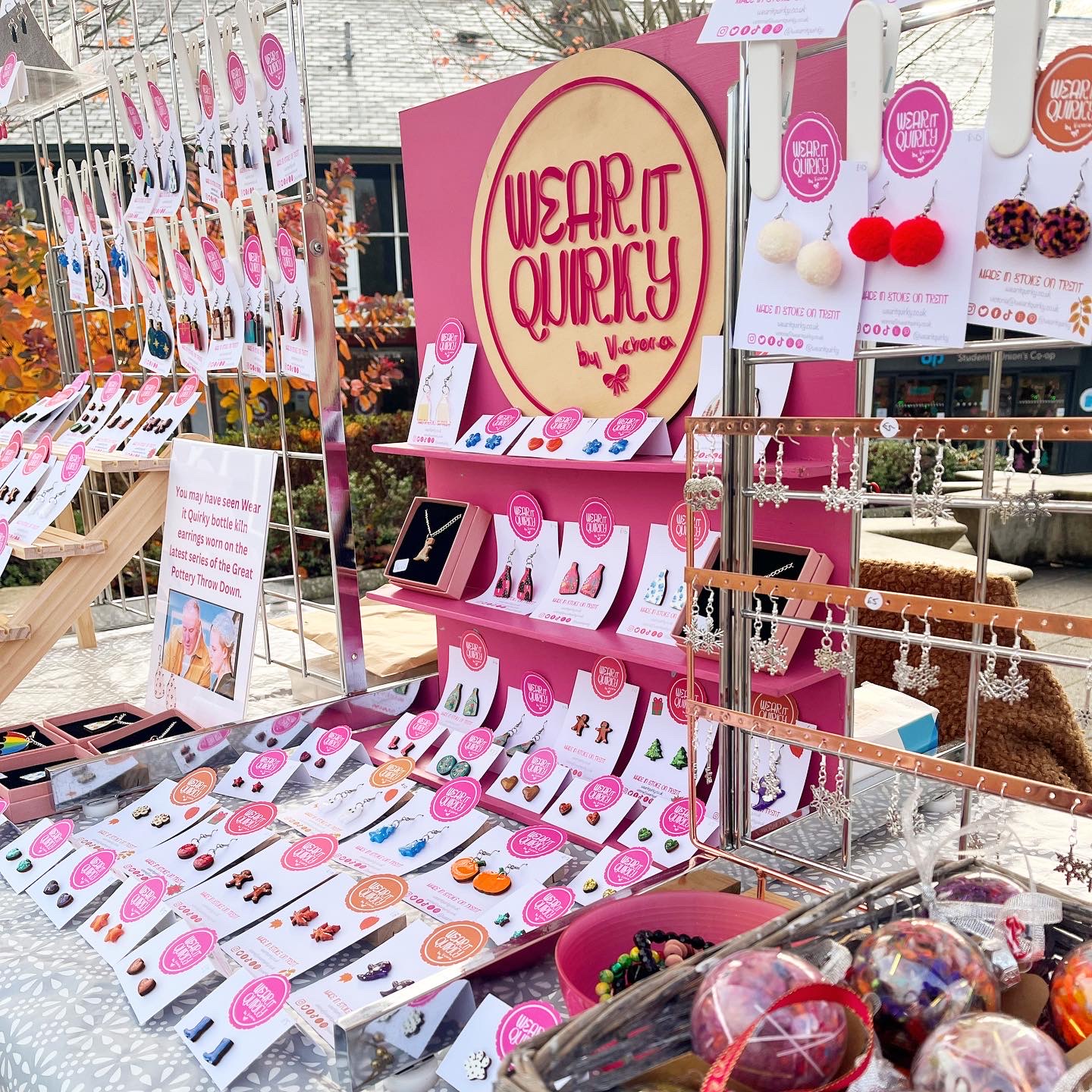 Keele SU Market - 22nd November 2022
Another amazing thing Keele SU organise is a regular market for people to sell their artisan products in the atrium of Keele SU Hub.
I therefore grabbed the opportunity to return to Keele alongside lots of other amazing artisan makers for their Christmas Market.
It was a great chance to speak to the students and introduce myself to those people who had already spotted my products (and some who had made a purchase) inside the Keele SU shop.
I had such an amazing day. The only thing I struggled with was my card reader thinking it had taken payments when it hadn't: I'll be adding sorting this out to the top of my to-do-list!
Castle Artisan Market, Newcastle-Under-Lyme -20th November 2022
Wow! What a phenomenal day. Thank you to the amazing people who visited the Christmas Castle Artisan event. It was such a wonderful atmosphere and I had so many amazing compliments for my pieces.
I keep imagining everyone adorning their Wear It Quirky jewellery on Christmas Day and it fills me with festive cheer.
I've been invited to take part in more regular Castle Artisan Markets next year and as I've had such amazing experiences so far: I cannot wait to become a regular and get to see you all more often.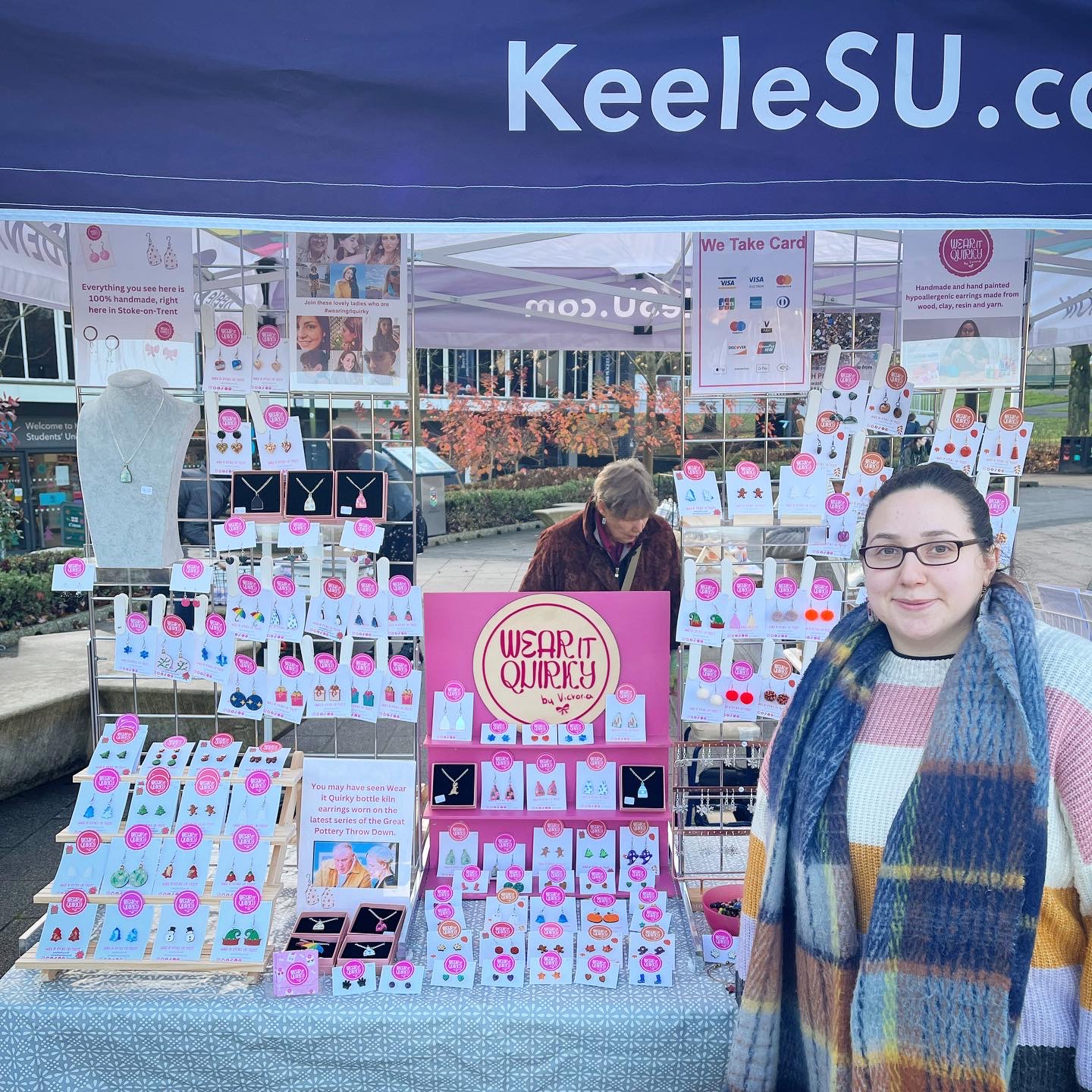 Keele University Open Day - 16th November 2022
As Wear It Quirky pieces are stocked in the Keele SU hub, myself and all the other stocked makers were invited to take part in the Open Day for new and prospective students.
We were set-up with a gazebo and table by the lovely helpful staff and students of the SU and although it was bitterly cold: it was an amazing day.
There were lots of lovely visitors to the Uni who came to say hello and who purchased from myself and the other makers.
I'm looking forward to the next one!
Potteries Pop Up - 7th - 13th November 2022
In 2022, the lovely Andy and Laura of Keep It Local had began supporting small businesses in Staffordshire by providing them with opportunities to collaborate with projects, take part in markets and to be involved in local networking events.
The team who had shown so much support already, then decided to take it a step further by setting up their own pop-up shop for Christmas.
In the Potteries Centre in Hanley, Stoke-on-Trent, there is a shopping unit which is rented on short-term leases to small businesses who wish to acquire a retail space for a nominal amount of time and this fab space is the one Keep It Local occupied for the week in November 2022.
As I luckily had no markets that week, I could give Andy and Laura my entire collection of stock hence this lovely table display I was very luck to have. It was a wonderful experience.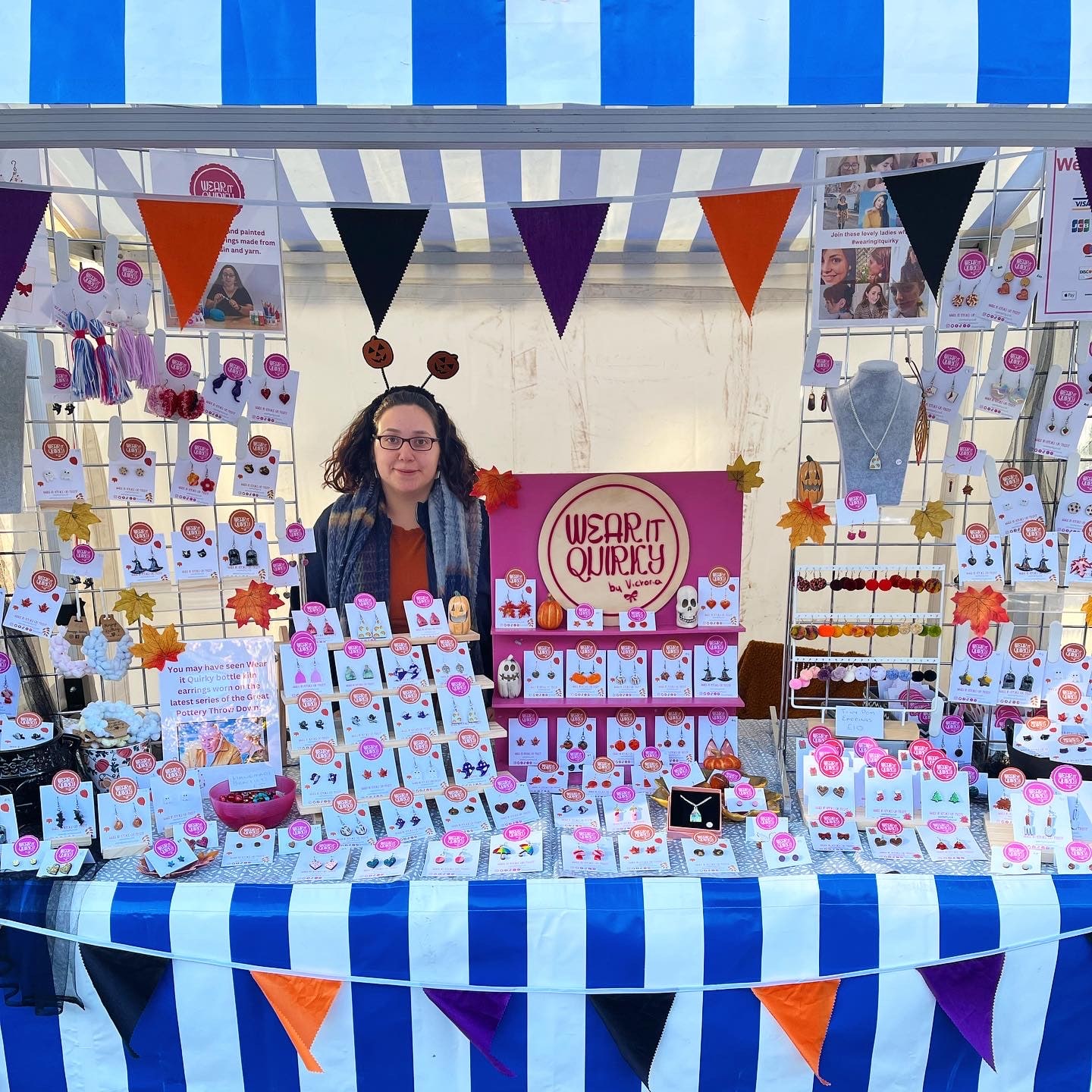 Castle Artisan Market, Newcastle-Under-Lyme - 16th October 2022
I have been trying to book onto the wonderfully popular Castle Artisan Market for a really long time but it's never fit around works, so I was so pleased to be able to attend 16th October and also have the 20th November 2022 planned to attend too.
I was even more excited when Castle Artisan announced this was going to be their Halloween special so of course, I had to dress both me and the stall in all things Halloween.
My husband put little artificial leaves around the stall for me and the halloween coloured bunting and I think how he put them was so perfect and so very cute.
I had such a great day at the market. Everyone was so friendly and the market regulars all told me how happy they were to see a new stall at the market.
I also loved how my stall looked. The additional decor definitely made it more special for me.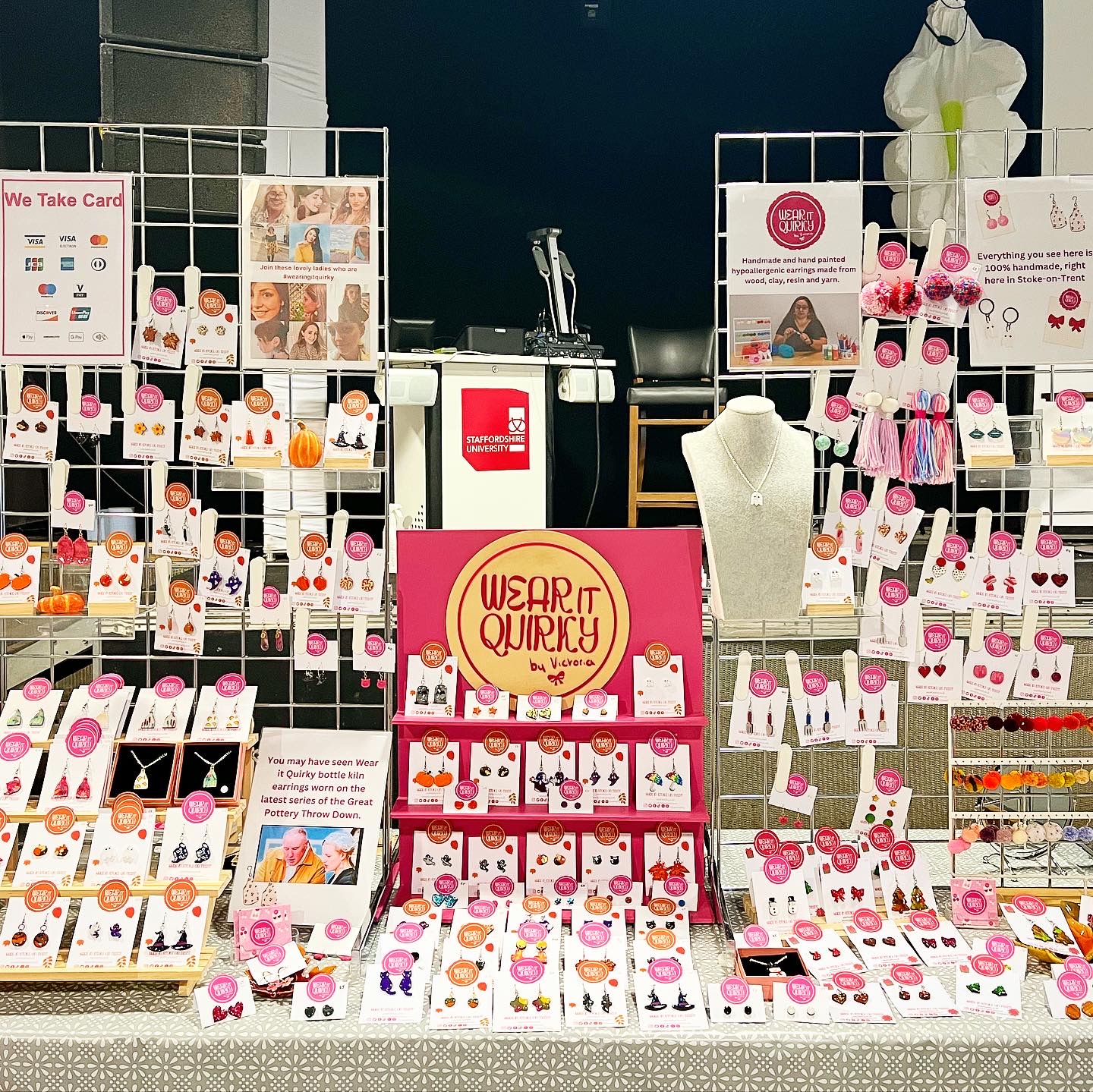 The Get Together, Staffordshire University - 12th October 2022
Wow! What an amazing day I had at The Get Together at Staffordshire University.
Not only was this a new venue for me including with new organisers, but it was a mid-week vintage pop-up market, PLUS it was held at the University and I went alone for the first time. So lots and lots of new challenges for me to overcome.
Having being doing so well at the Creative Hub at Keele University, I had hopes that the University students would embrace my quirky wears; and so they did.
Either side of the day for the event was a little quiet, but we had a big rush in the middle and my quirky pieces especially my Halloween pieces proved so popular; I was extremely chuffed.
Admittedly, there are certain pieces I have taken around with me to many markets and they've never caught the right persons eye and so I've taken them to the next market. At this event though, lots of those pieces were also popular too. I'll definitely be looking for more events to do at Universities where I can. I'd love to take my pieces to University of Derby which is where I studied; so maybe that's a goal for next year.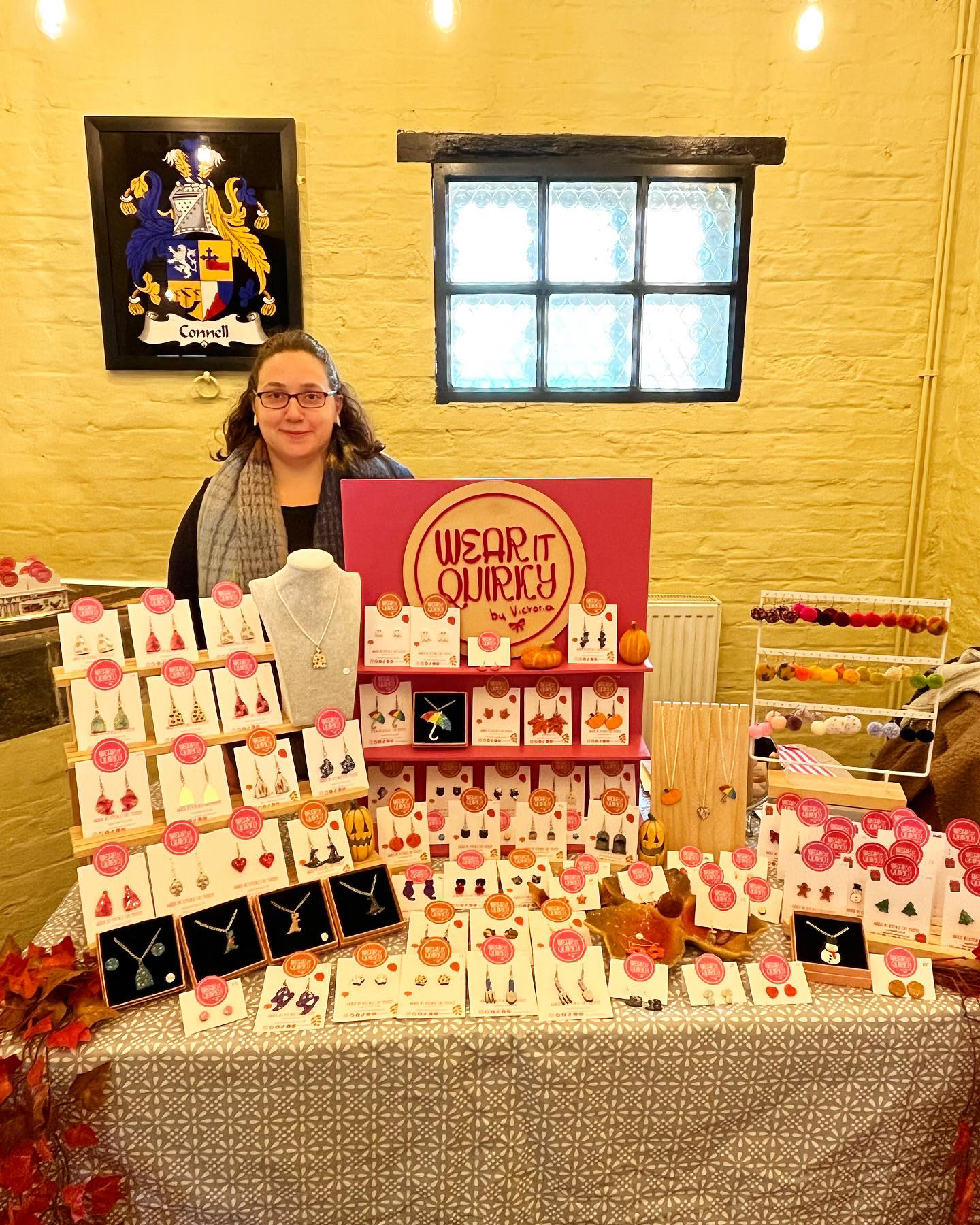 Keep It Local Market, Sneyd Arms, Keele - 8th October 2022
Keep It Local is ran by Husband and Wife team Andy and Laura. Since starting an Instagram page dedicated to all things local, they have now become networkers putting on events, collaborators with local businesses and have even set up their own travelling market.
The market at Sneyd Arms was the first one for Keep It Local and I was very lucky to be able to secure my spot.
Myself and my sister-in-law went to the beautiful venue which is an old stables called the Knights Templar, newly renovated by Sneyd Arms and had a wonderful afternoon chatting to locals and sharing my Halloween and Autumn pieces.
The venue meant for an even smaller table space than normal, so my sister-in-law and I had to do a bit of a re-jig of the usual set-up to make sure it looked good and we were both really pleased with the result.
For a first market, Laura and Andy did so well. The event ran smoothly, they'd found a hidden gem of a location and as a stall holder; we couldn't have asked for more.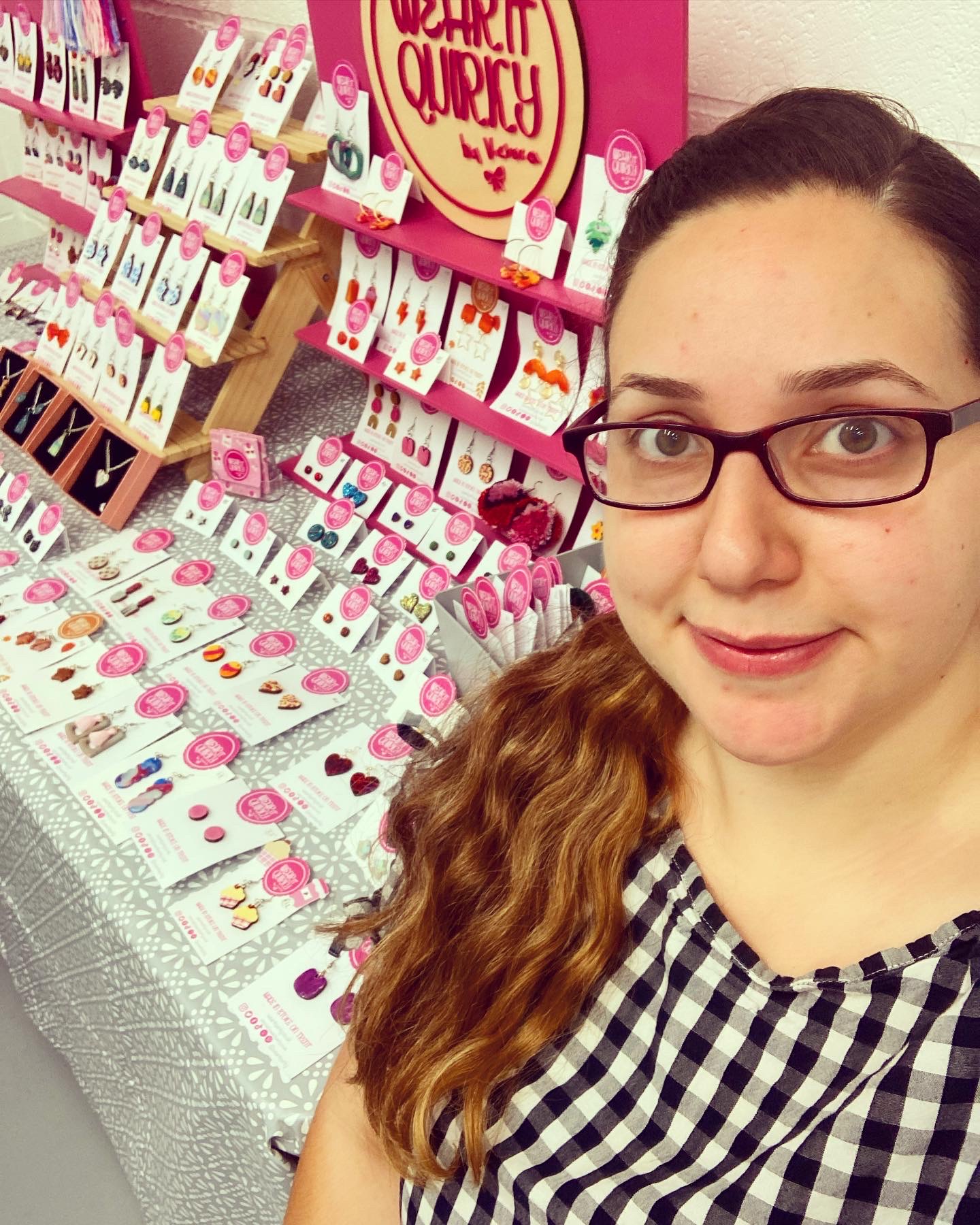 Print, Paint & Craft Open Day at Great Bear Tattoo, Tunstall -
31st July 2022
In May, I was contacted by the lovely Emily of Great Bear Tattoo who asked if I wanted to take part in their first ever Print, Paint and Craft Day at their lovely studio in Tunstall.
As a tattoo virgin, I'd never come across Great Bear Tattoo and their new studio before. They have such a wonderful workshop space and host lots of amazing events. This was their first 'market' day event and it was fab. Lovely footfall, lovely people and lovely venue.
Emily and Callan are both artists and have their own products they produce and sell so they had lots of lovely pieces available alongside the other makers too.
It's full of character but Emily and Callan have made it really modern. I had such a fab day and cannot wait for the next one.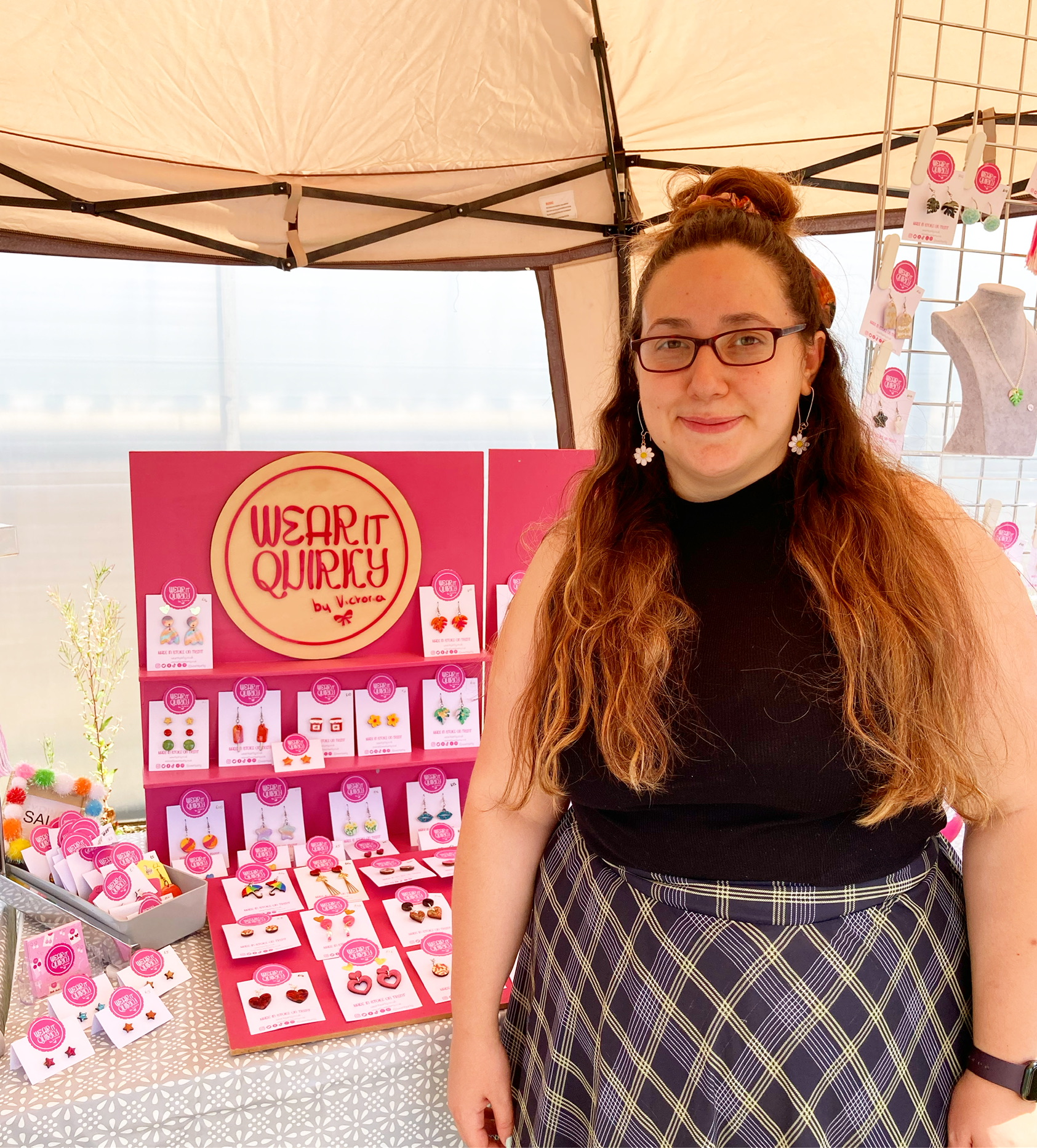 Canalside Farm, Great Haywood, Stafford -
9th and 10th July 2022
I seem to always mention the weather whenever I'm remembering markets, but it really does make a difference to a stall holders day.
For this gorgeous summer market at my most favourite venue, I took all the pieces of stock I had left and displayed it in my new layout.
I've been struggling with stock lately...which is a good problem to have in one way, but not in another. It's meant lots of making lately but it did mean I felt my stall wasn't as lovely and full as always. Nonetheless, it was a fabulous weekend...even if the gazebo did break. Luckily it was at the end of the weekend and not at the start.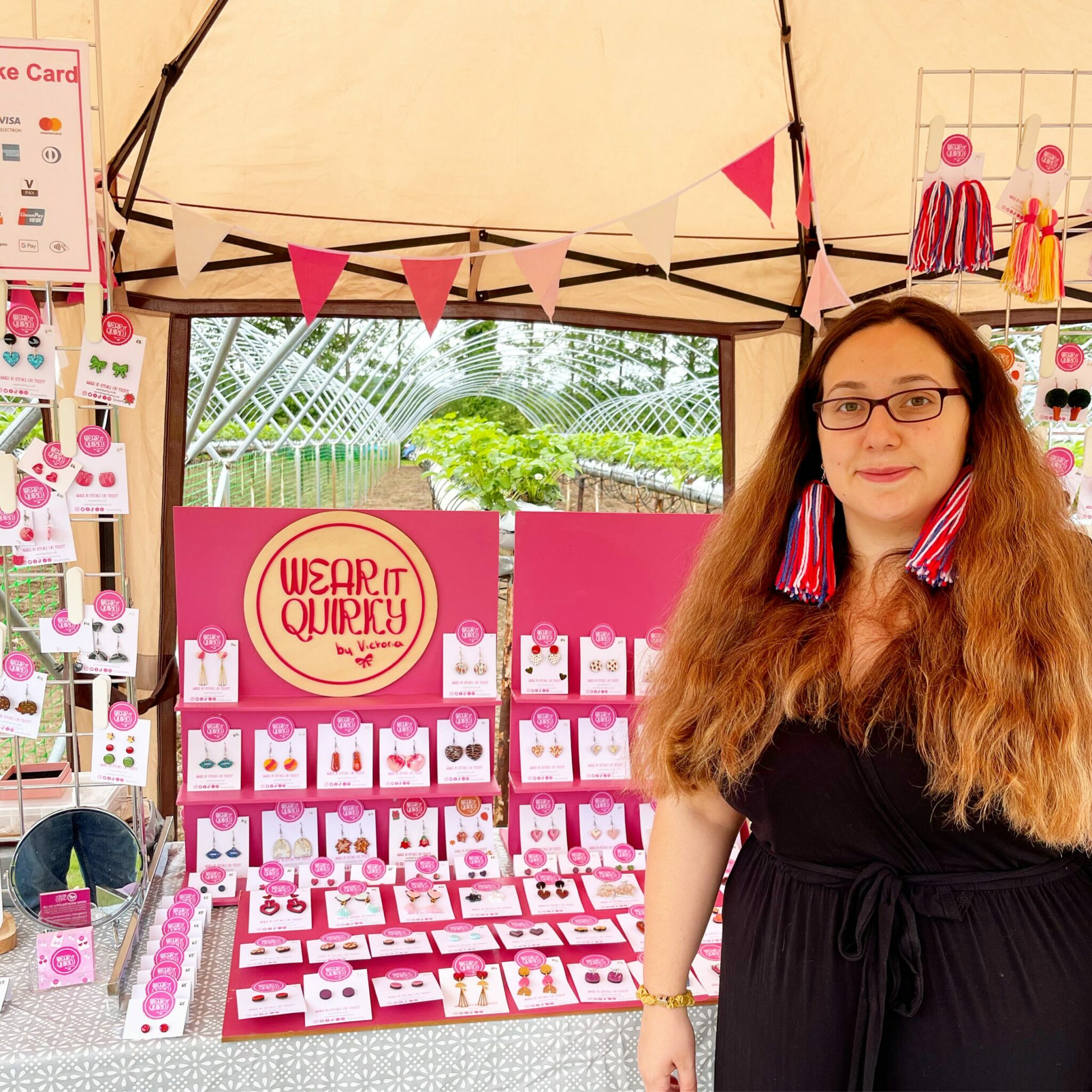 Canalside Farm, Stafford -
28th and 29th May 2022
Another two wonderful summery days amongst the strawberry tunnels at the lovely Canalside Farm market.
It was the weekend before the Platinum Jubilee weekend so as you can see, I had adorned my Jubilee earrings for the occasion.
I also had some new strawberry designs and union flag earrings for the market too which all sold out (thank you!).
The first day was lovely and warm and my husband decided to pick some strawberries of his own too. The second was a little cooler with a bit of drizzle in the morning.
This didn't put off the visitors though including a lovely party of people celebrating a 40th birthday.
The second day of the market also fell on the 2nd year anniversary of Wear it Quirky which was  very exciting!
What a lovely place to celebrate!
For this market I was next to Orla Hope Art and Aunty B's Creations with Rae Downey just a little bit down.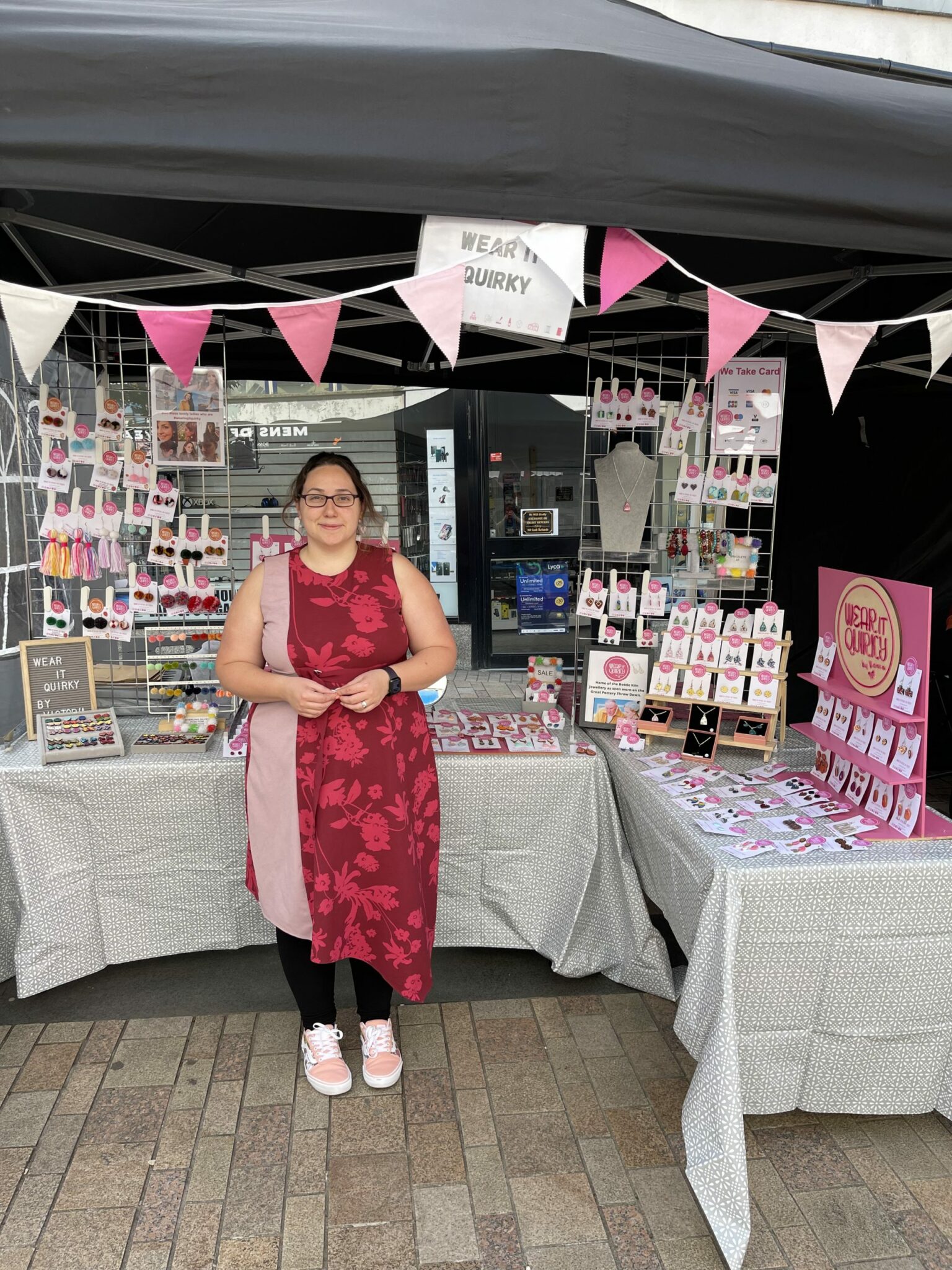 Piccadilly Artisan Market, Hanley - 22nd May 2022
The organisers of the Castle Artisan Market also now hold events at Piccadilly in Hanley, Stoke on Trent.
I had planned to go to another market at Piccadilly earlier in the year and unfortunately caught Covid-19 and was unable to attend. This time though, I was well and able to attend and I had a lovely day speaking to lots of locals.
For this event, I had a special stand set up for my Stokie pieces including bottle kiln earrings and bottle kiln necklaces from the Stokie Collection.
I also expanded my stall a bit too which was perfect as it gave me much more space and it made it easier for me to speak to and help customers. I will definitely be setting up like this again.
I will hopefully be able to take part in the market again in the future.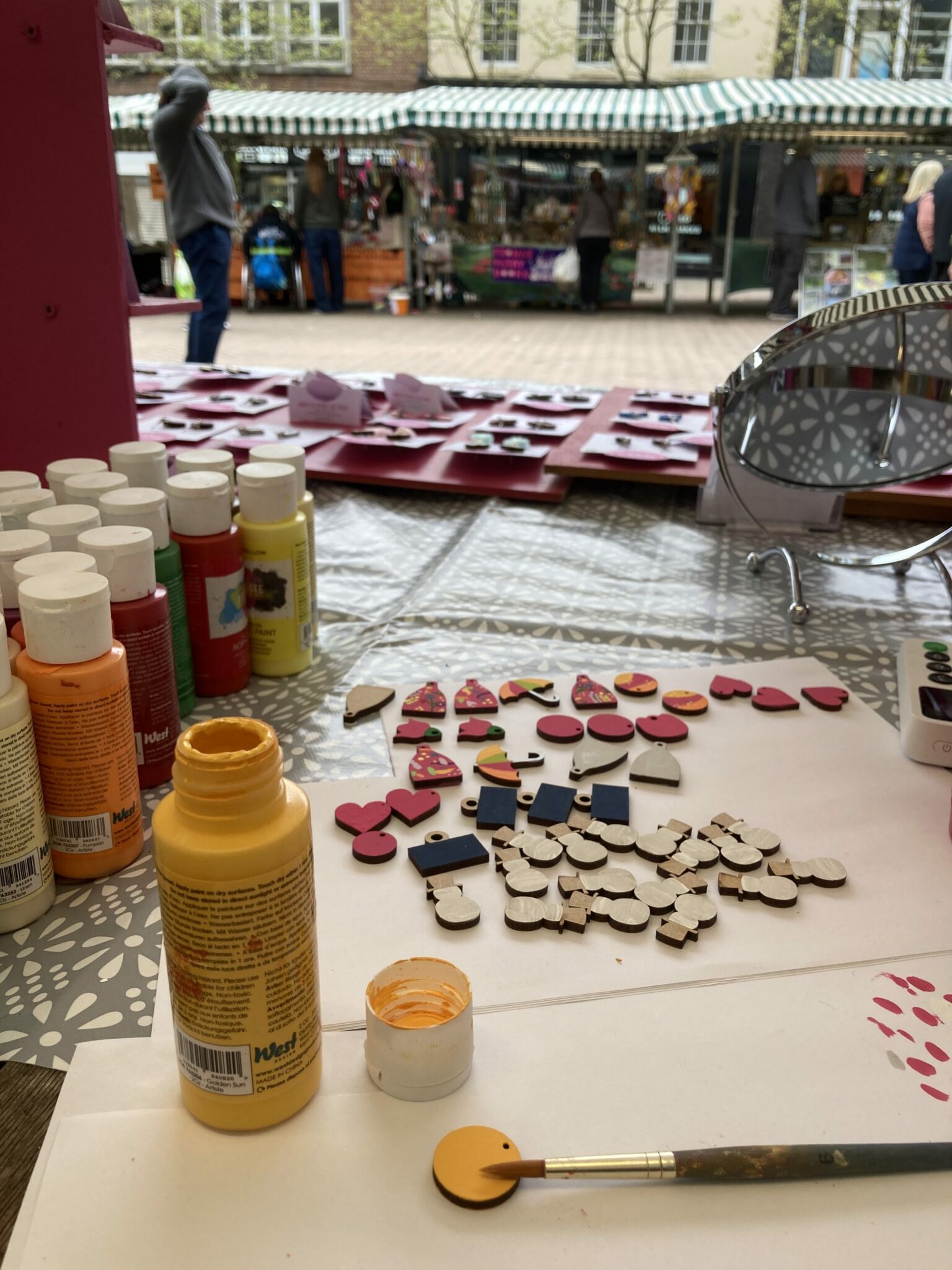 Castle Artisan Market 'Staffordshire Day' - 1st May 2022
Castle Artisan Market is ran by a team of makers, which is great as they know first hand what it is like to have a small business and to hold a stall too!
The team at Castle Artisan Market held a special event to celebrate Staffordshire Day and I was very lucky to be able to get a stall there for the day.
There were lots of lovely local customers throughout the day and the event also had live music playing too.
The event organisers encouraged us to sit and make if we were able to, so in between customers, I sat and painted some new pieces including kiln designs, union flags to celebrate the platinum jubilee and believe it or not...snowmen, ready for Christmas.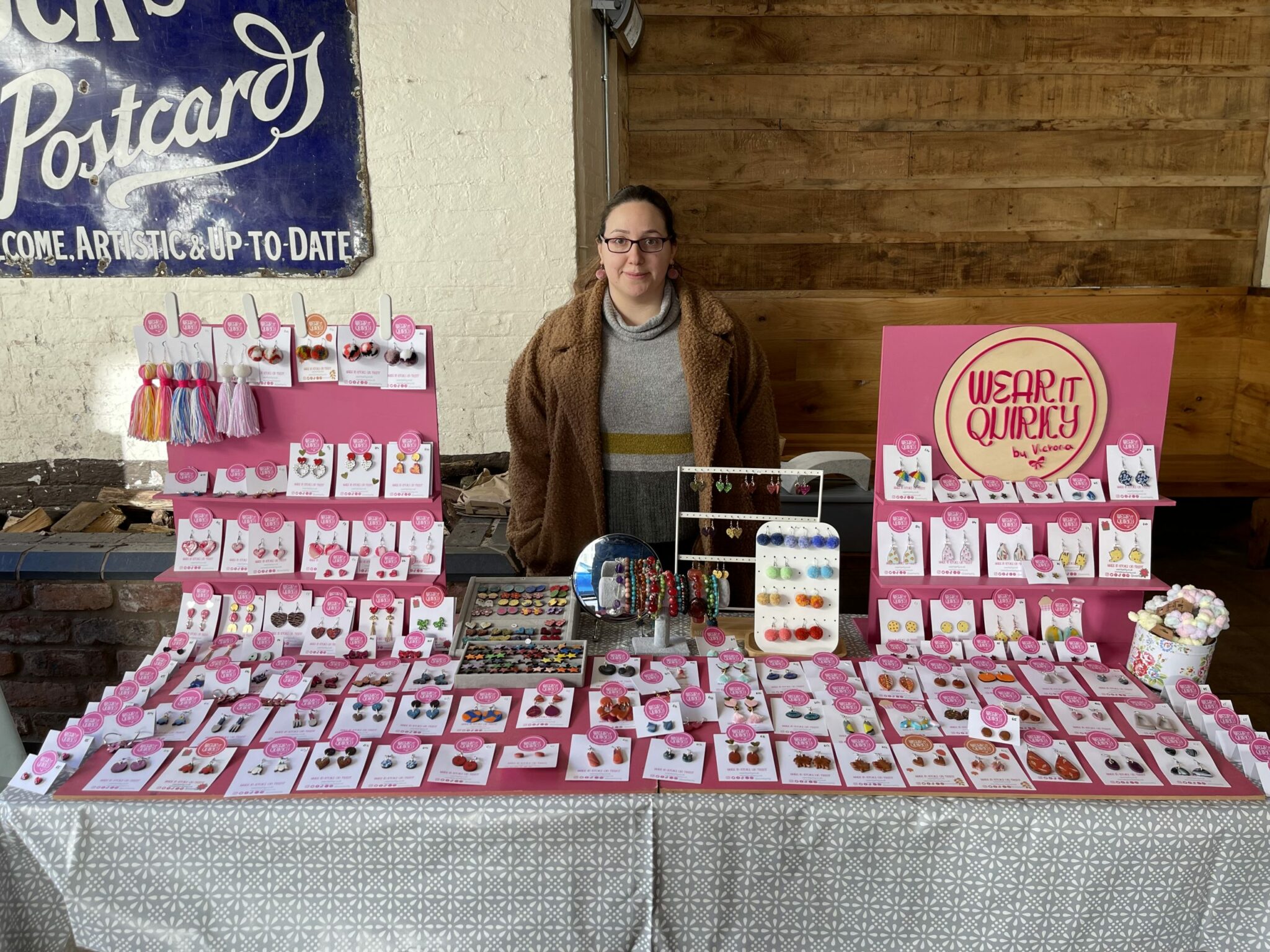 Eccleshall Makers Market - 2nd April 2022
Eccleshall Makers Market is a new artisan market ran by makers. Their first event was at the beginning of March 2022 and they have been running since.
I took part in the April market and although it was a lovely sunny day, it was very cold in the old stables of the pub.
I had some lovely regular customers come to say hi and make a purchase which was lovely.
I wish the new market lots of success.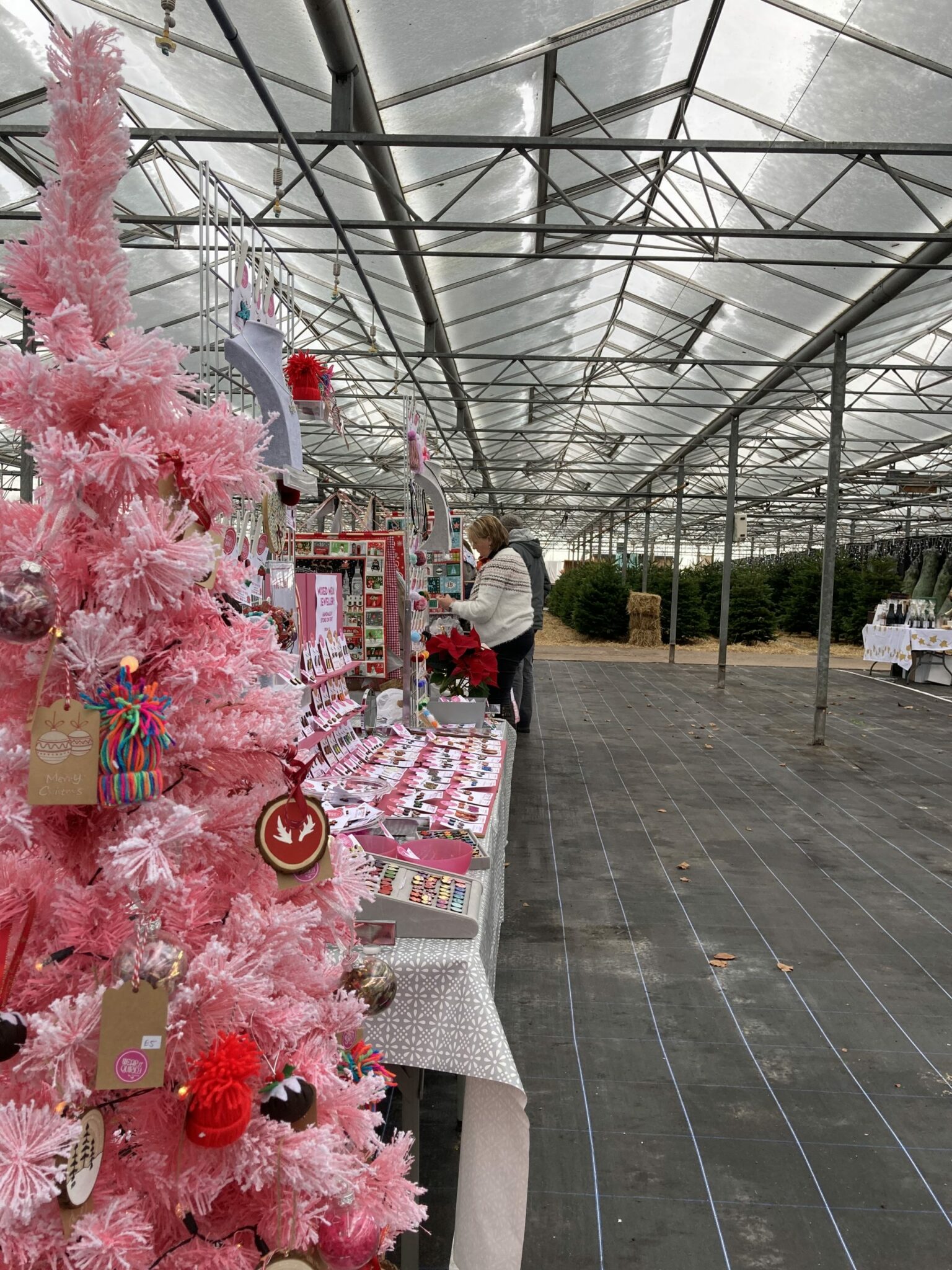 Canalside Farm, Stafford - 27th and 28th November 2021
The last market of 2021 was at Canalside Farm in Great Haywood. Compared to being amongst the strawberries under gazebos in Summer, this weekend we were in the Glass House with the gorgeous smelling Christmas trees.
There were lots of us and we were lovely and spread out with plenty of place for my tree and all of my christmas goodies ready for people to wear.
As you can see from the photos, when we were packing up on the second day, it began to Snow at the farm and we had a mad dash to get out and away as my husband and I were seeing a show in Liverpool that evening.
During this event I was next to the lovely Jessica and James whose Mum kept me nice and refreshed with lots of coffees. As always, a wonderful event at Canalside Farm. Thank you to everyone for coming.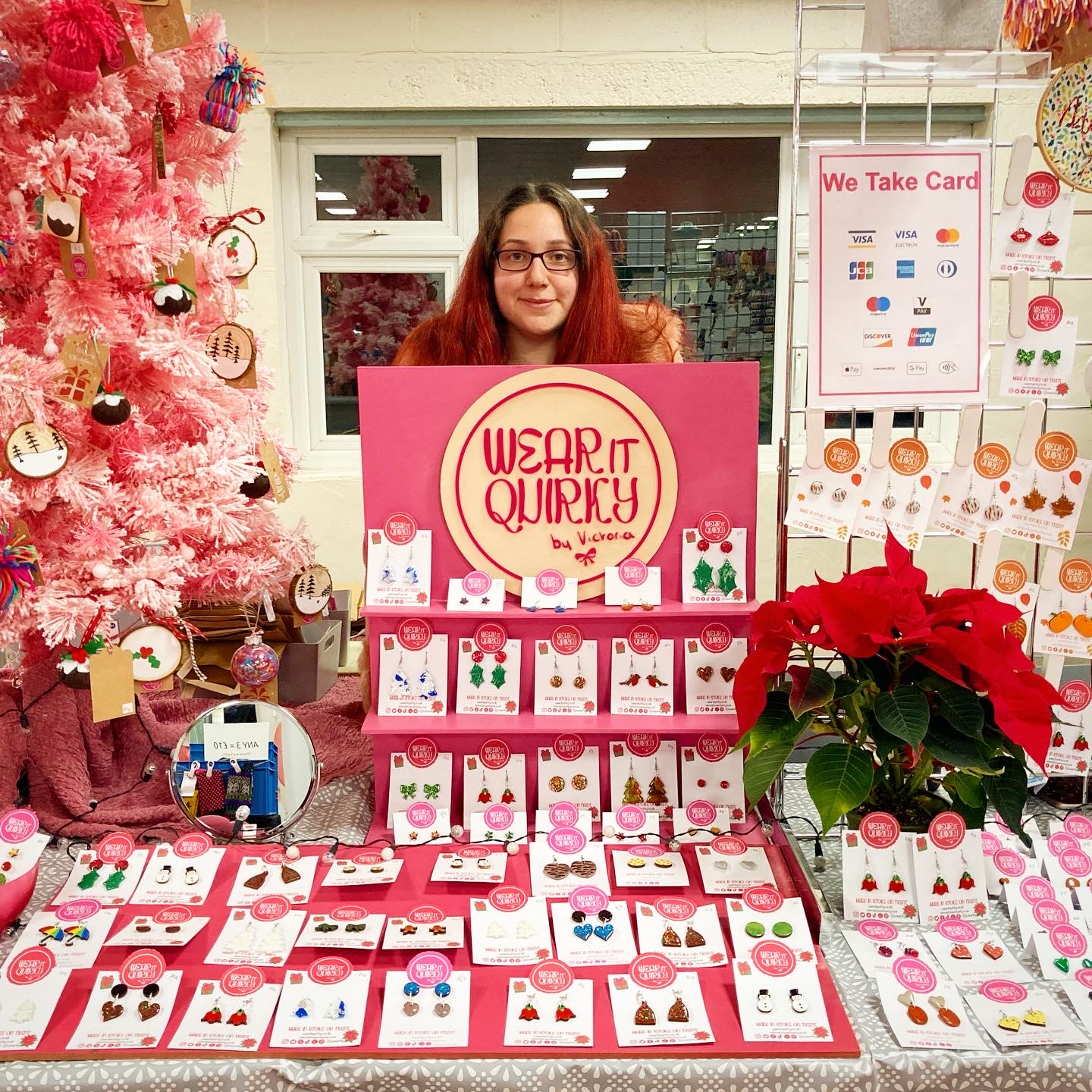 English Winter Fair, County Showground - 20th + 21st November 2021
In November, accompanied at points throughout the fair by my Mum, friend and sister-in-law, I attended the English Winter Fair at Staffordshire County Showground.
On the showground, different events were held in different buildings including livestock showing, food stands and young farmers competitions. I, alongside other makers and traders formed part of the christmas country fair.
The weekend formed two long days and my longest craft fairs/markets to date. Unfortunately, I believe it was possibly the wrong crowd for my quirky pieces and although it was really busy in the fair, people seemed to be distracted by the other parts of the event.
I had planned to attend next year, but I think I will be giving this one a miss. What it did provide though, was the first opportunity for me to get the pink tree out...and oh how cute she looked!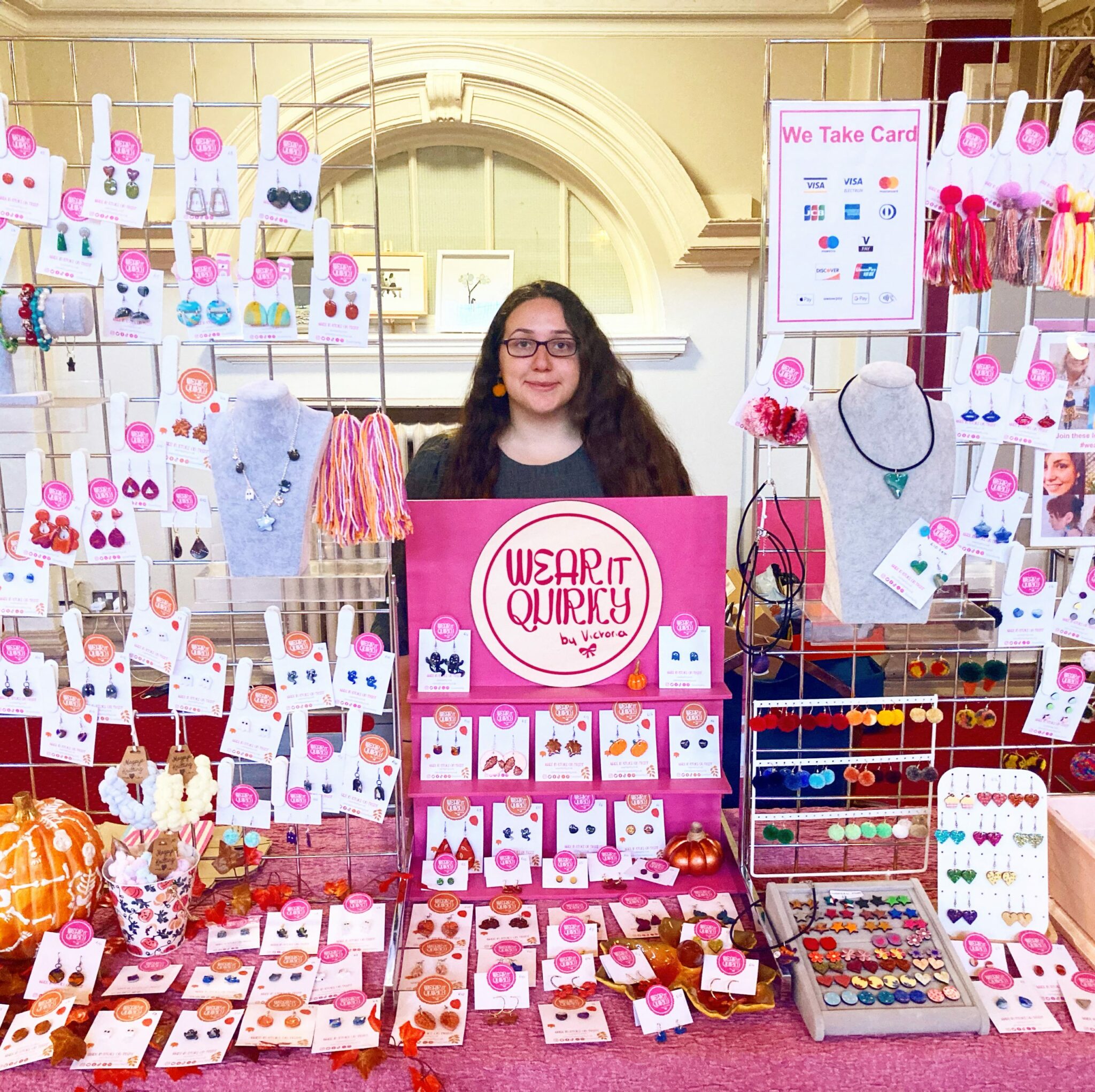 Craft and Flea - Kings Hall, Stoke - 9th October 2021
My first Craft and Flea and my first market in the Kings Hall.
It is such a beautiful venue and as it's so local to me, it finally meant my husband and I could have a lie in.
The stall was a little smaller than normal which meant we had to face a challenge of laying everything out on just one 6ft table. We at first thought it wasn't going to work, but we got there in the end and it meant the stall was lovely and full and colourful.. just how I like it.
I will be looking out for more Craft and Flea events to take part in in the future and will make sure I'm there if they ever do one at Kings Hall again.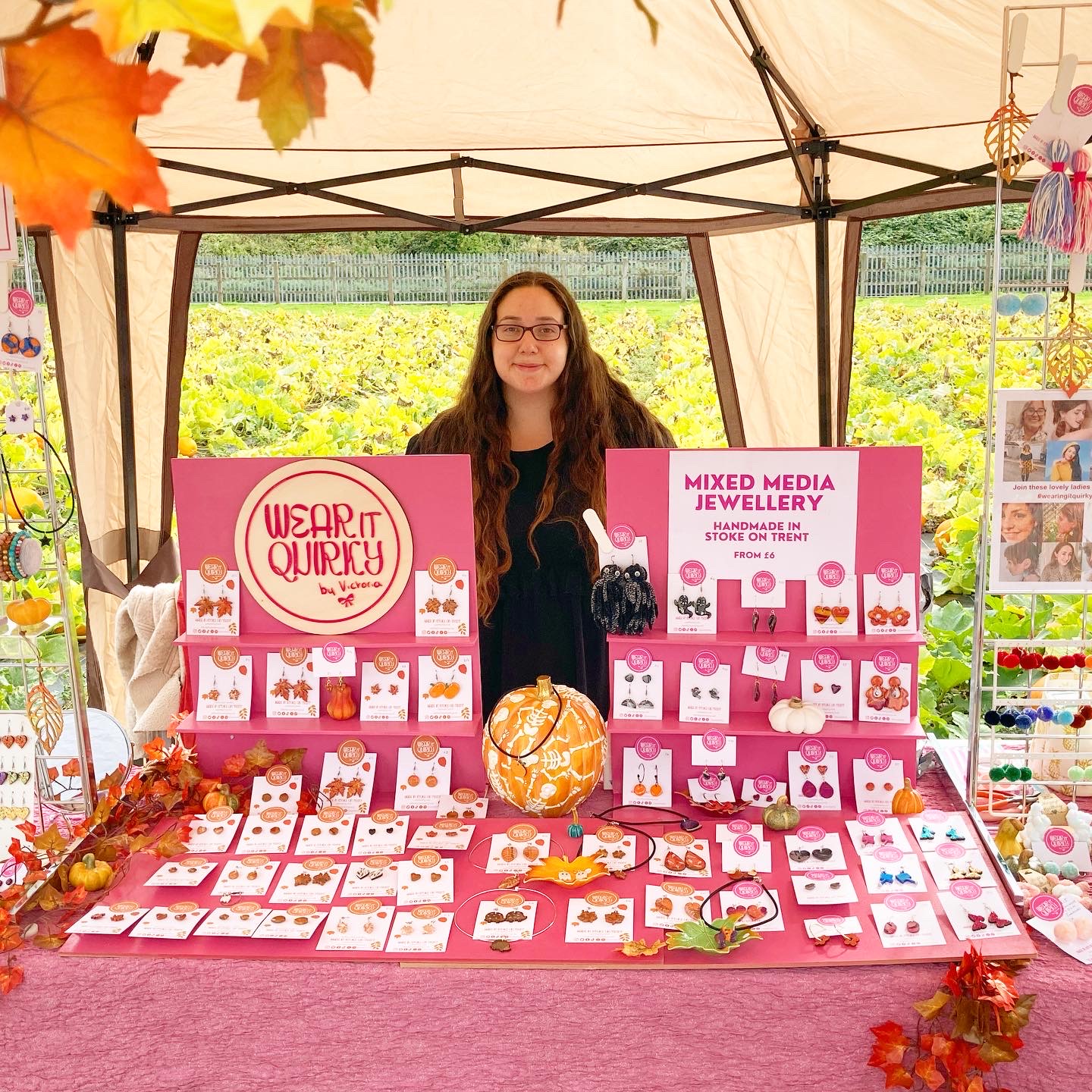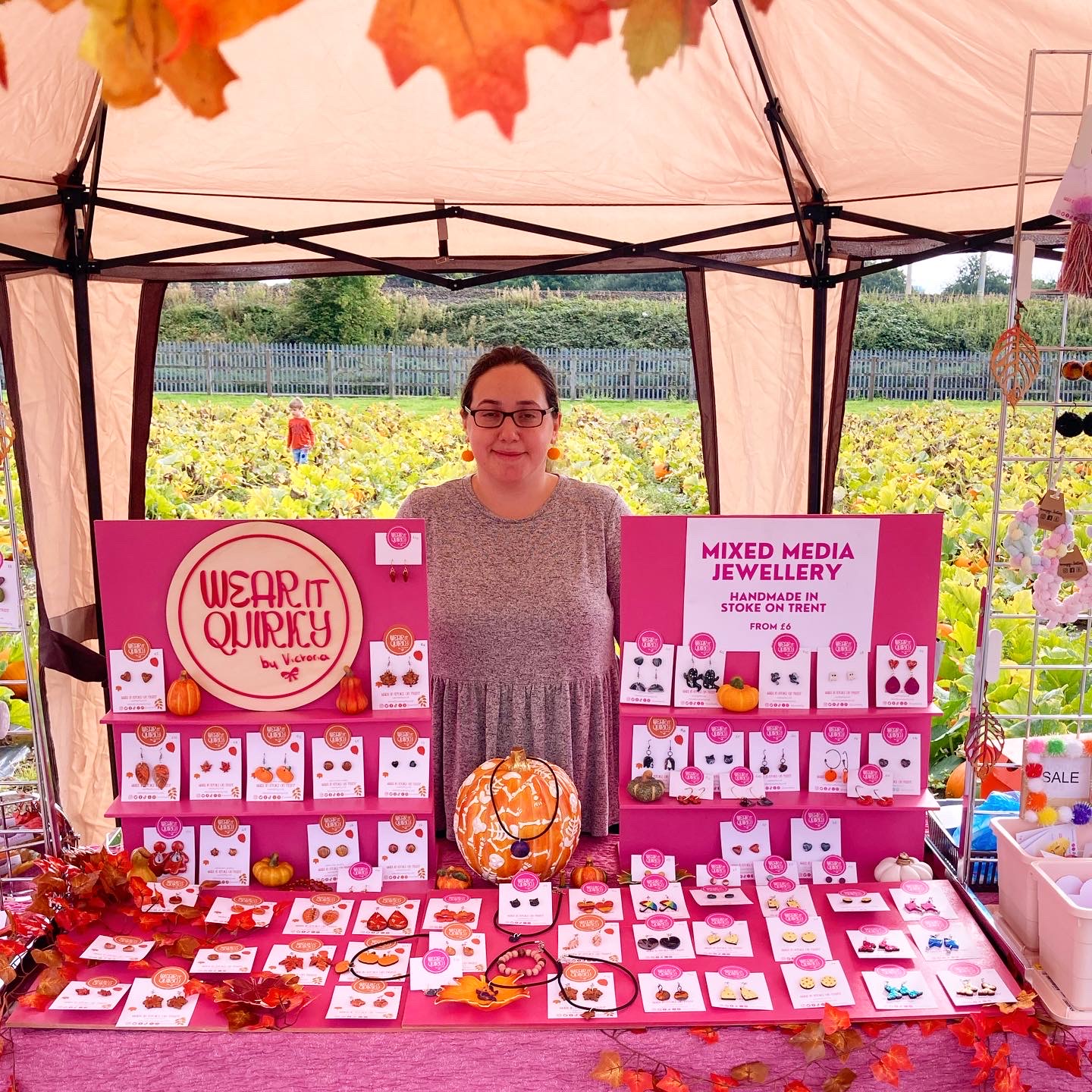 Canalside Farm Market - Great Haywood, Stafford
11th - 12th September 2021
In September, Wear It Quirky spent the weekend at the wonderful Canalside Farm Autumn Market.
Of course, naming the market the Autumn one meant we went all out on our autumnal decorations for the gazebo.
We had a fantastic weekend beside the 15,000 pumpkins which have been planted by the farm and were almost ready to be picked.
This weekend also meant the Wear It Quirky Autumn Collection was shown altogether featuring lots of gorgeous leaves and pumpkins.
PLUS, especially for the market NEW Halloween pieces were made including ghosts, cats and even tassel monsters!
It was such an amazing weekend and we met so many lovely people including the stall holders nearby - Hodgepodge Designs and Harrys Mom's Cake Kitchen.
The next Canalside Farm event will be in November inside the glass house amongst the Christmas trees and we cannot wait!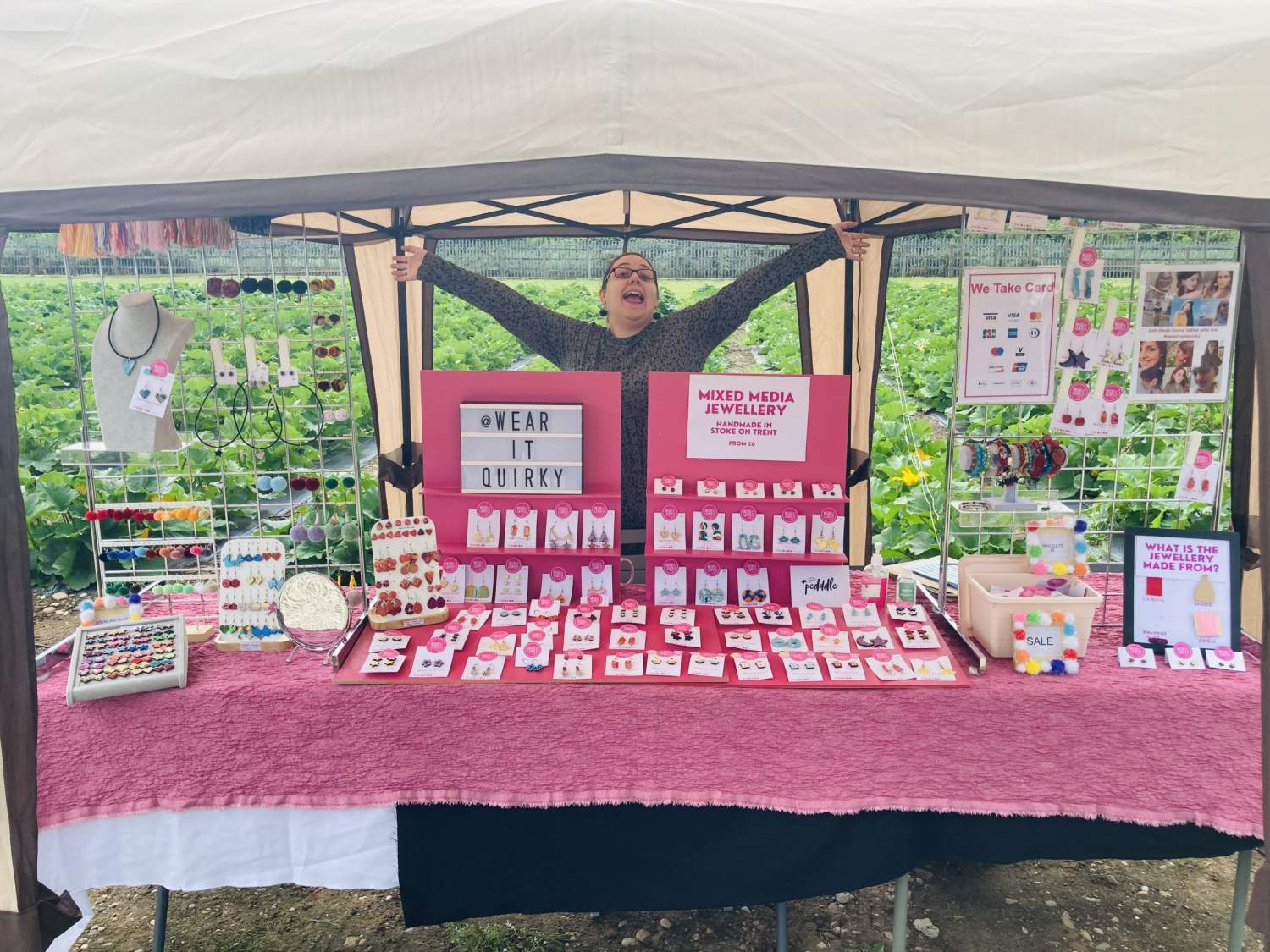 Canalside Farm Market - Great Haywood, Stafford
11th July 2021
Wow, what a fantastic day this was (as you can see from my enthusiastic photo - hehe). Beautiful weather and THE most beautiful setting I have ever had for my market stall. I was asked by Canalside to take part in the event and what an amazing event it was. The customers at Canalside Farm were lovely and so supportive. Even if they were not earring fans, they still came up to say how beautiful everything was and I was so grateful.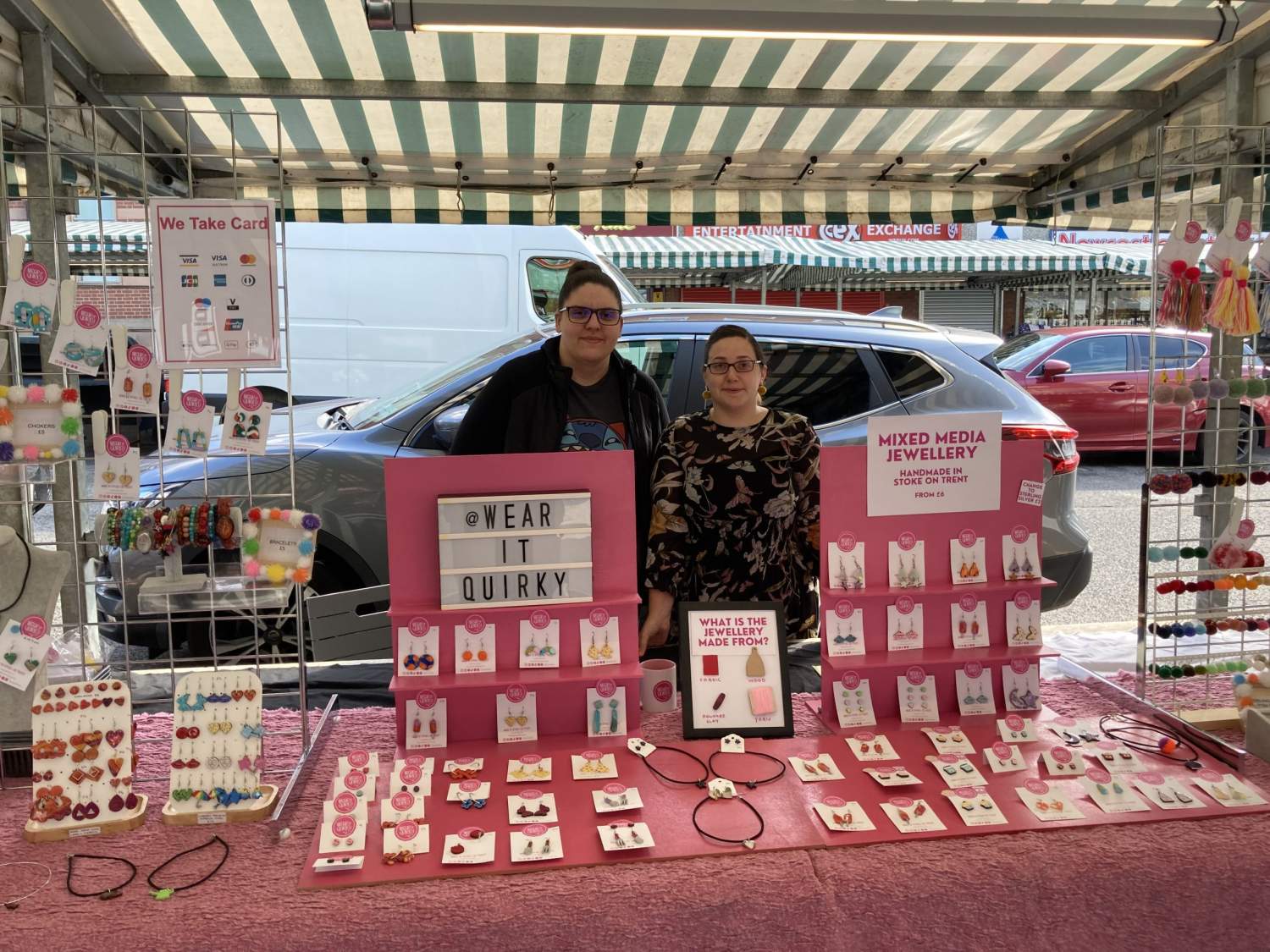 Young Traders Market - Newcastle-Under-Lyme
26th June 2021
On 26th June, Wear It Quirky took part in the first round of the national competition of the NMTF - the young traders competition.
The idea of the competition is to encourage young entrepreneurs to start a business involving trading at markets.
Unfortunately, due to the other wonderful competitors, Wear It Quirky did not make it through to the next round of the competition but we will definitely be trying again next year.
In the photo, you will see my lovely sister-in-law who accompanied me for the day of the market.
Trentham Gardens Makers Market
17th May 2021
Thank you so much for anyone who came to this market. It was a wet and cold one but a lovely day all the same.
The stall at this market featured some new cute little stands and a teeny tiny pom stand absolutely breaming with pom pom earrings as I finally had the chance to stock up.
We were also next-door-but-one to Planet Doughnut who very kindly gave us a doughnut to try and oh my gosh, it was SO yummy! If you ever attend a market and spot them, definitely grab one...or two.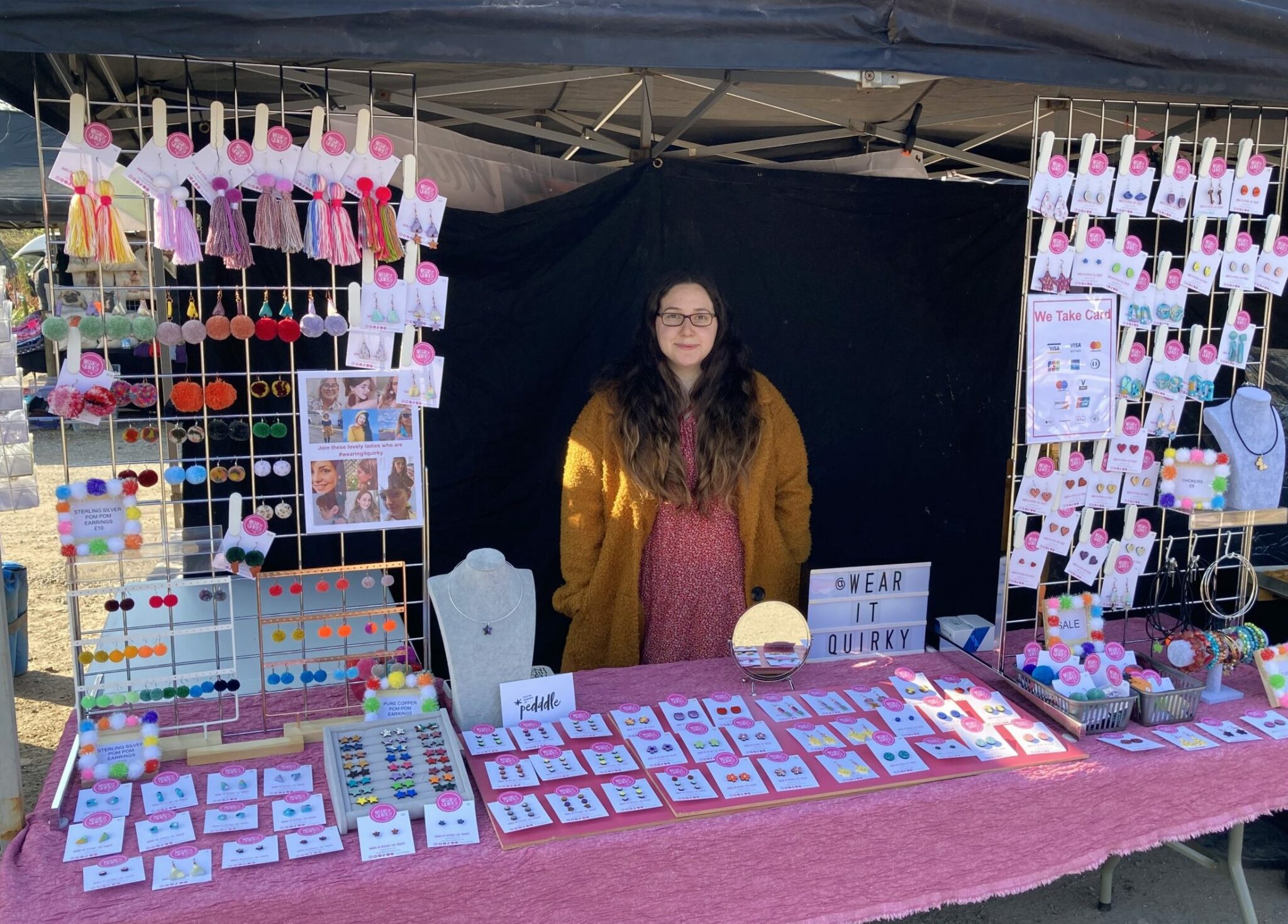 Trentham Gardens Makers Market
17th April 2021
Wear It Quirky spent the first market of the year and the first market since Covid-19 lockdown 3 at the Trentham Gardens Makers Market.
It was a gorgeous sunny day with lots of lovely visitors looking for some handmade goodies.
Wear It Quirky took their new tassel earrings too which everyone loved!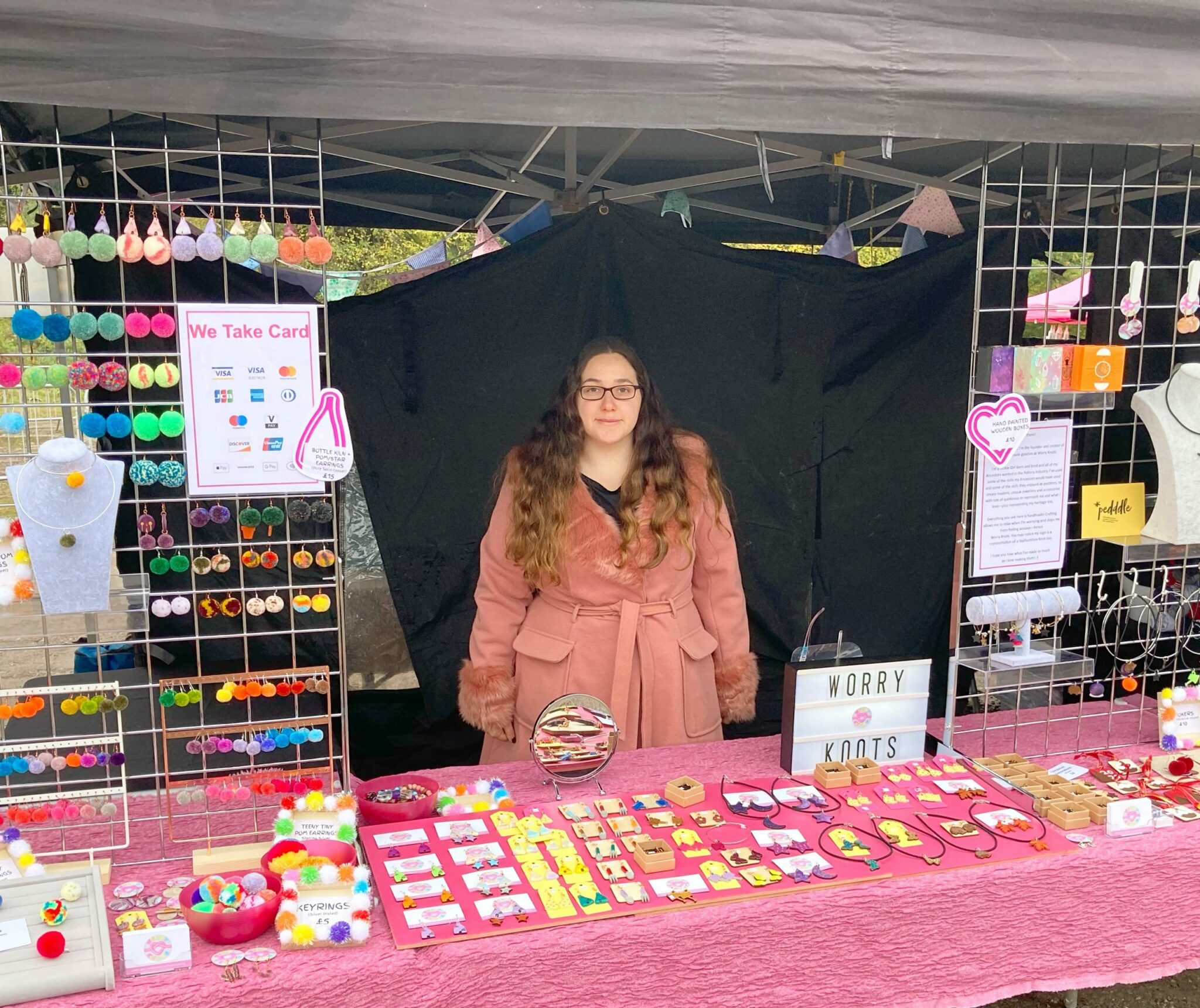 Trentham Gardens Makers Market
17th October 2020


This Trentham Gardens Makers Market was the last market before lockdown 3 hit.
It was also the last time you would see Wear It Quirky be called Worry Knots (which was the previous name).
We had a lovely day, PLUS we featured in the local newspaper!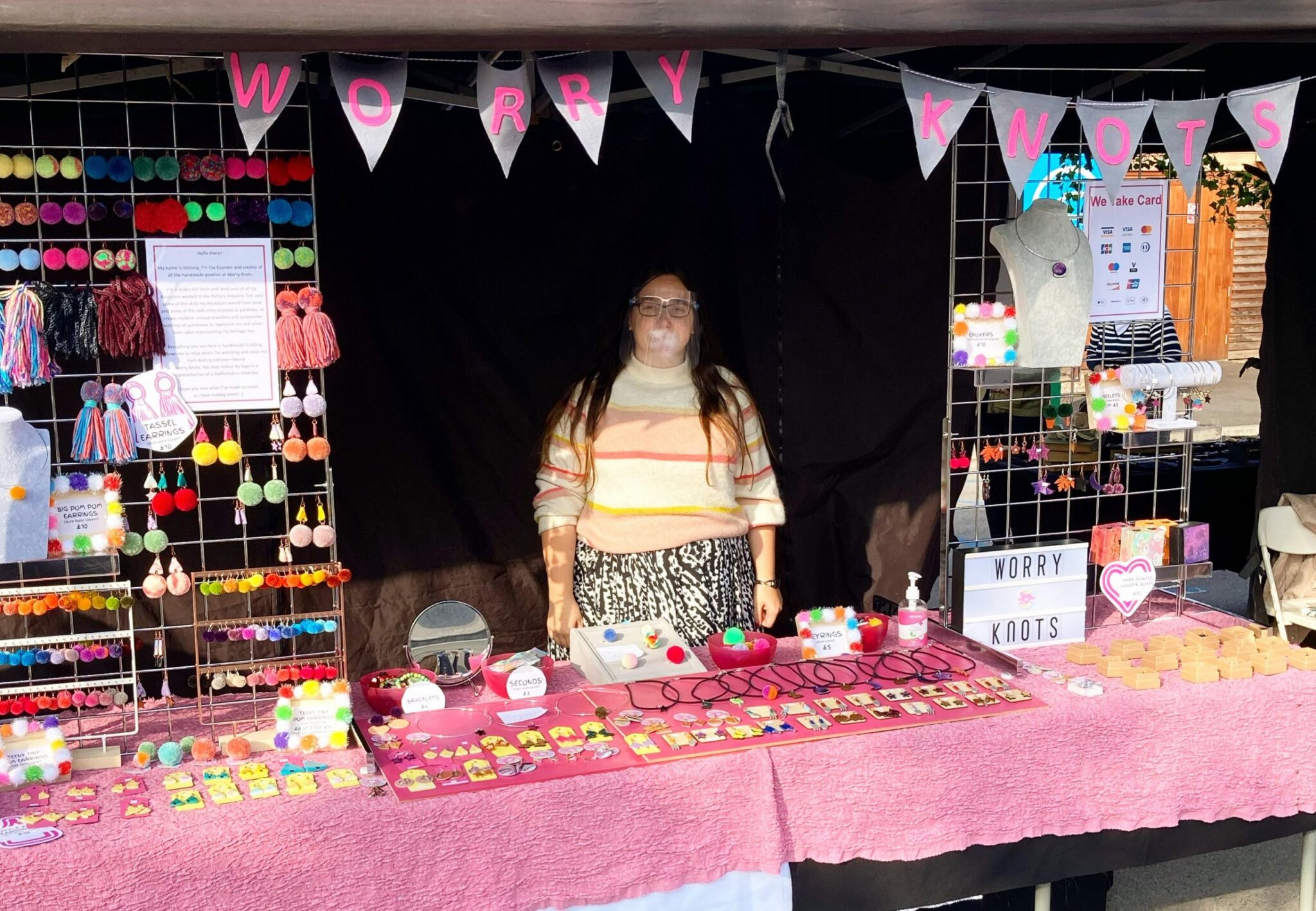 Trentham Gardens Makers Market
19th September 2020


Don't let the jumper on the photos deceive you, this was possibly THE sunniest day of the year and it was in September!
What a wonderful day it was to see all of our quirky visitors.
You'll notice the stall had a bit of glow up too.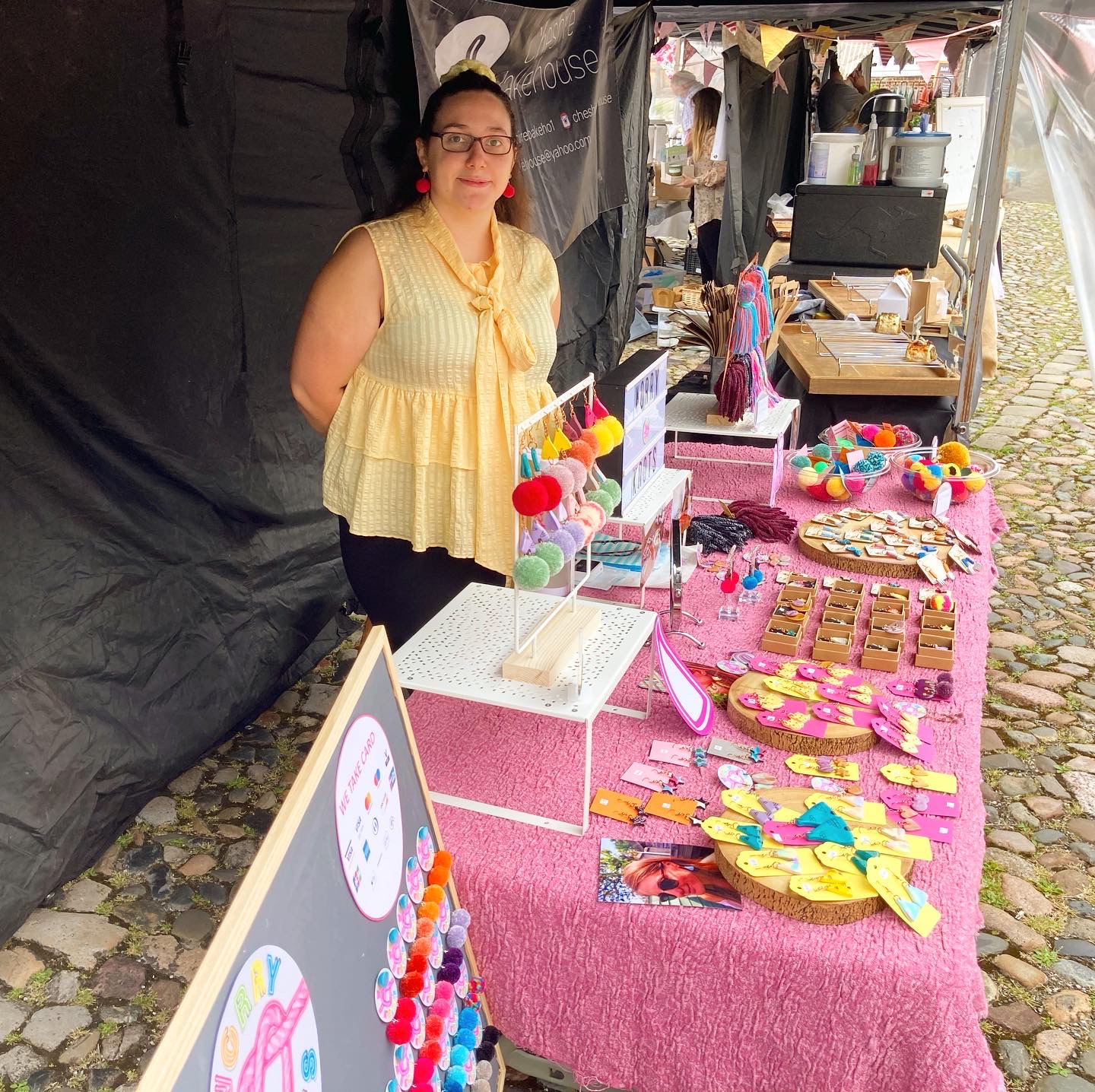 Sandbach Makers Market 
8th August 2020
Another beautiful sunny day and next door to lots of yummy food and other wonderful makers.
Not the most successful market Wear It Quirky has had a stall at, but worth the visit all the same.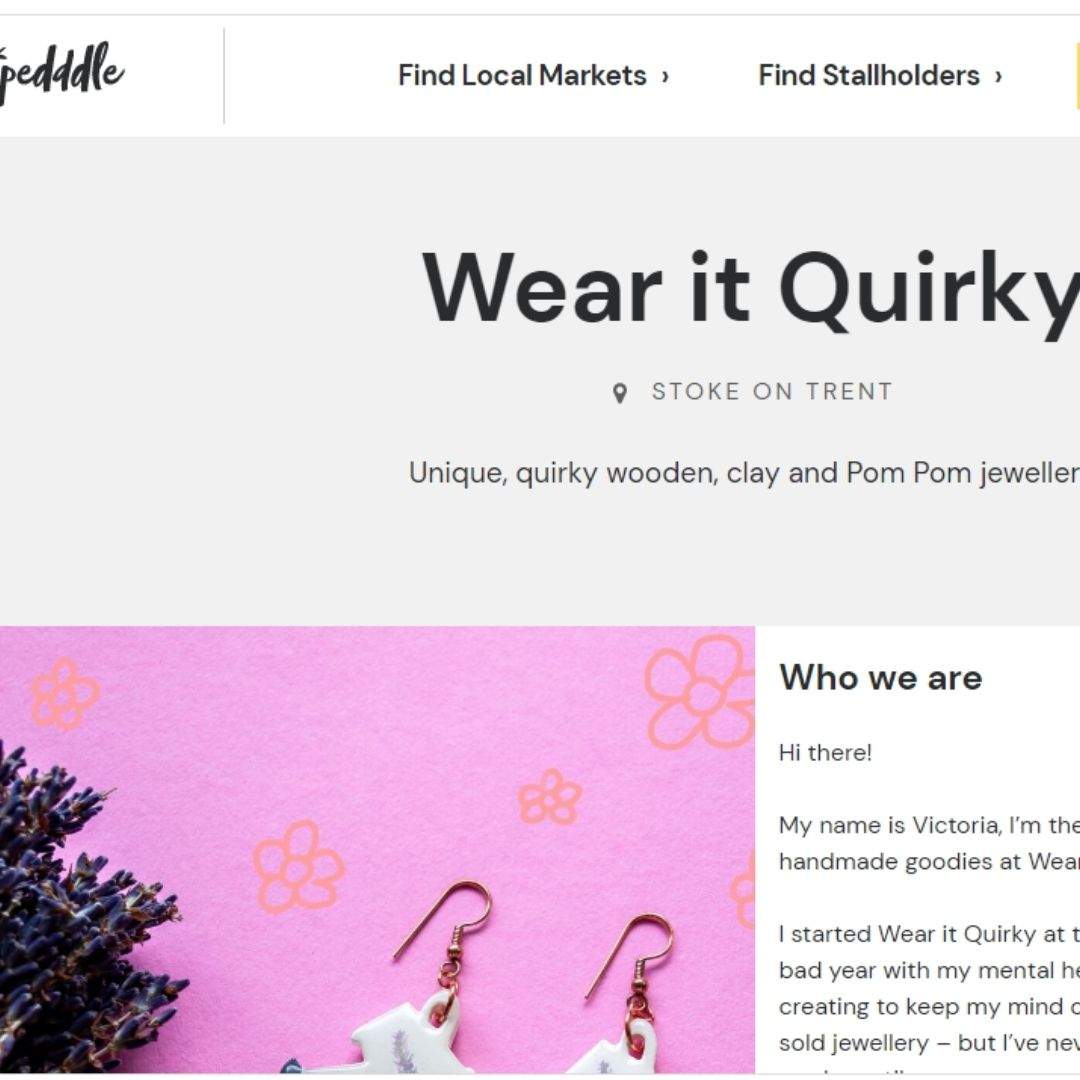 Online Local Market with Pedddle
25th July 2020
The first online market for Wear It Quirky. Wear It Quirky joined Pedddle in early July - a network supporting local artists and businesses at physical and online markets.
The first Pedddle market was all about shopping local on line and Wear It Quirky was part of the North West region.
Find out more about Pedddle here.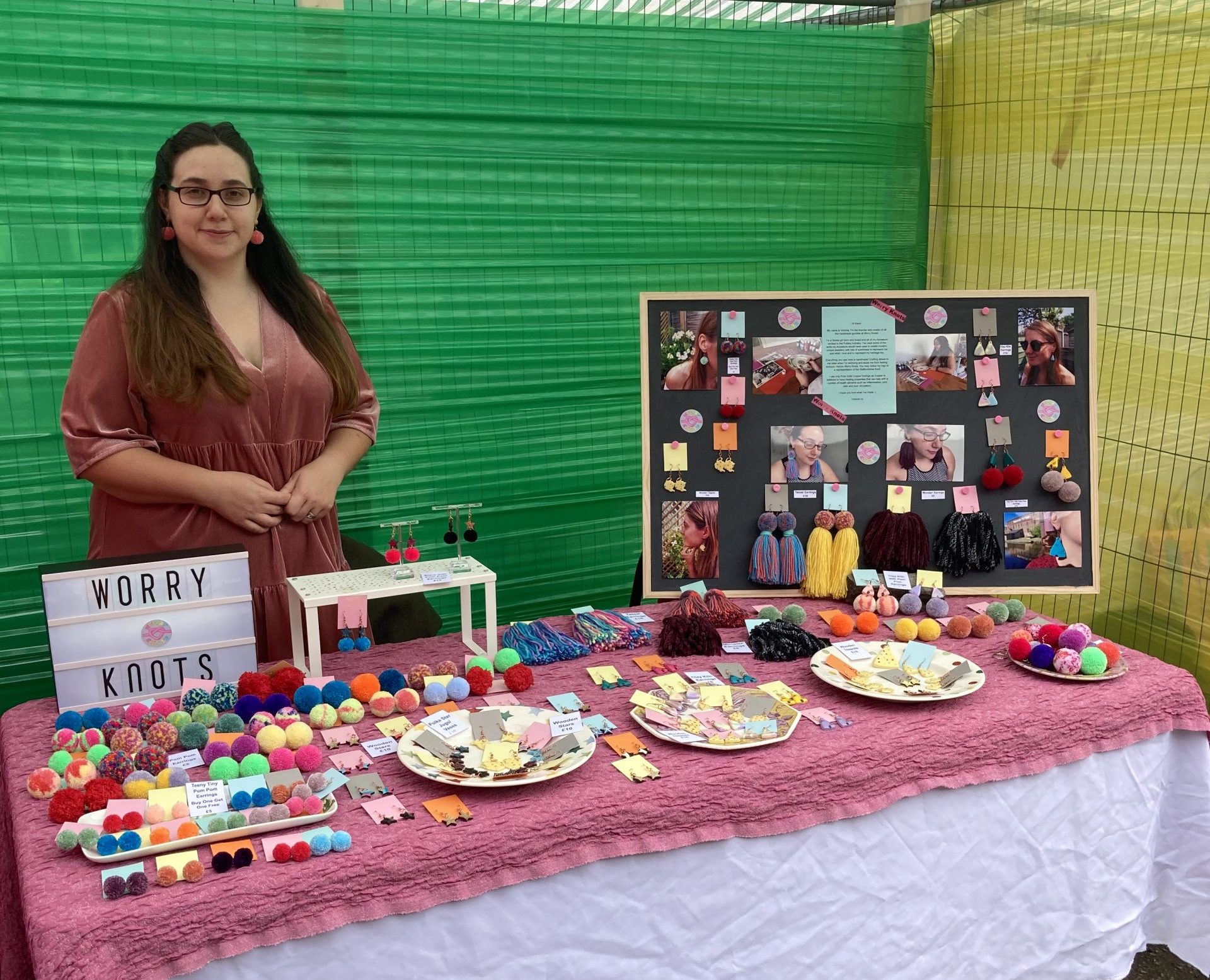 Market48 - Spode Works 
4th July 2020


Set in the wonderful site of the old Spode Factory which is now a hotel, bar, cafe and Heritage Centre, Market48 launched their first market since Covid-19 began.
It was a wonderful day and it was so exciting to see people for the first time after so many months locked down. It will definitely go down as one to remember as it was the first Wear It Quirky market.